The collaboration between the North Face and the Buckminster Fuller has arrived at new geodesic dome tent called the Geodome 4. When it comes to outdoor products, most of us are aware of the performance and reliability of The North Face. As the company has been providing high-quality outdoor equipment to outdoor goers for the last fifty years.
Then you have R. Buckminster Fuller, arguably one of the most important inventors and visionaries of the twentieth century, who worked as a 'comprehensive anticipatory design scientist'. Fuller was consumed whole-heartedly with making the world a better place for all of humanity and searched for solutions to the global problems we face. R. Buckminster Fuller continues to be a source of inspiration for those working towards a more sustainable planet and future.
One of the great legacies of R. Buckminster Fuller is the Geodesic Dome. It was created under the principle that a decreased surface area requires less building materials. In addition, this type of dome is easier to cool and heat, and lessens wind turbulence that creates a significant net savings in energy consumption from more traditional structures. The other bonus, which is another reason why it's great as a tent is that the design is better able to withstand high winds and extreme temperatures that you find in the Polar regions for example. On average, geodesic structures require less time to erect.
The benefits of the Geodesic Dome have been since recognized by elite thinkers among scientists, architects, artists, and even adopted for use by the U.S. military – that needed quick and strong housing for soldiers living overseas.
Fuller passed away in 1983, but the Buckminster Fuller Institute (BFI) has since been established to continue the work the man himself started. It's a no brainer that a company like The North Face teamed up with him for various tent projects since 1975. While The North Face company stands strong in its commitment to the environment, no doubt sustainability is also an economic opportunity that the maker of outdoor goods isn't willing to pass up. Regardless, a combination of good design and sustainability is something to get excited about.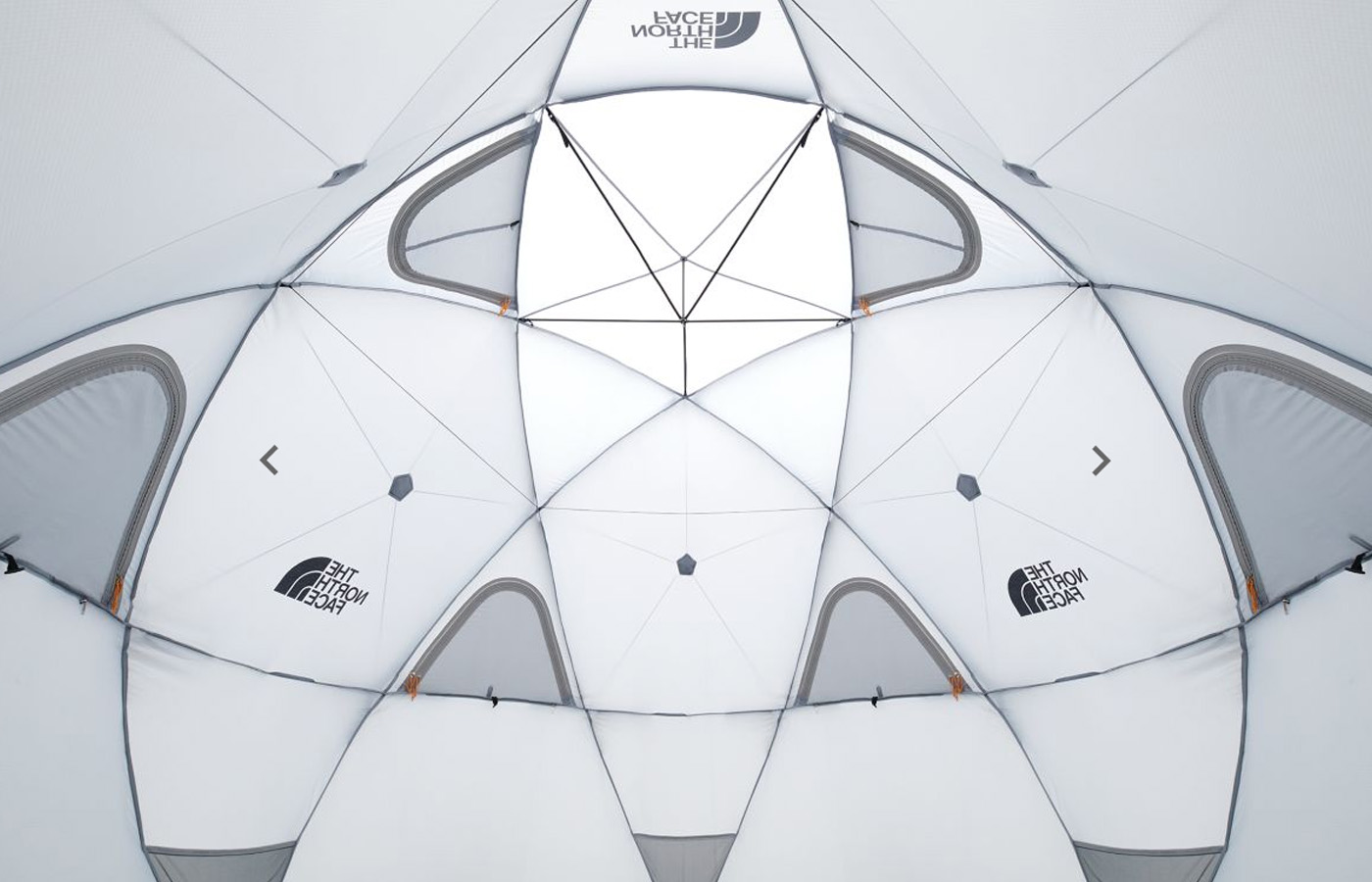 The Geodome 4 is meant to mimic the most spatially efficient shape that exists in architecture. It can accommodate a tall six foot person whose standing inside in a pretty comfortable way. Its specialized shape can withstand strong gale-force winds, because the wind will spread out evenly across the entire structure. The tent fairly lightweight and can be quickly and easily assembled with a total of six poles (five main poles and one equator pole). The tent sleeps four people and features a dual-layer and water-resistant exterior making it near perfect for the toughest of expeditions. Other details include five mesh windows, two top ventilation windows with quick open function, fully seamed fly sheet.
Until very recently, the tent was only available in Korea and Japan, but has finally made its way to the US. Everything is packed in a large duffle style sack, weighs approximately 24 pounds and can be yours for a flat $2,000.