With due respect to the Chevy Bolt and Volt, we think the Chevy E-10 Concept is the best electric vehicle from General Motors. For starters, just look at it. It's a hot-rodder's dream come true, and it has authentic details to make it stand out from other hot rods.
But if you think this retro truck has a marvelous 327 cubic inch V8 or 292 cubic inch inline-six motor, you're wrong. This E-10 hot rod is packing serious electrons under the bed.
Yes, the battery pack is in the truck bed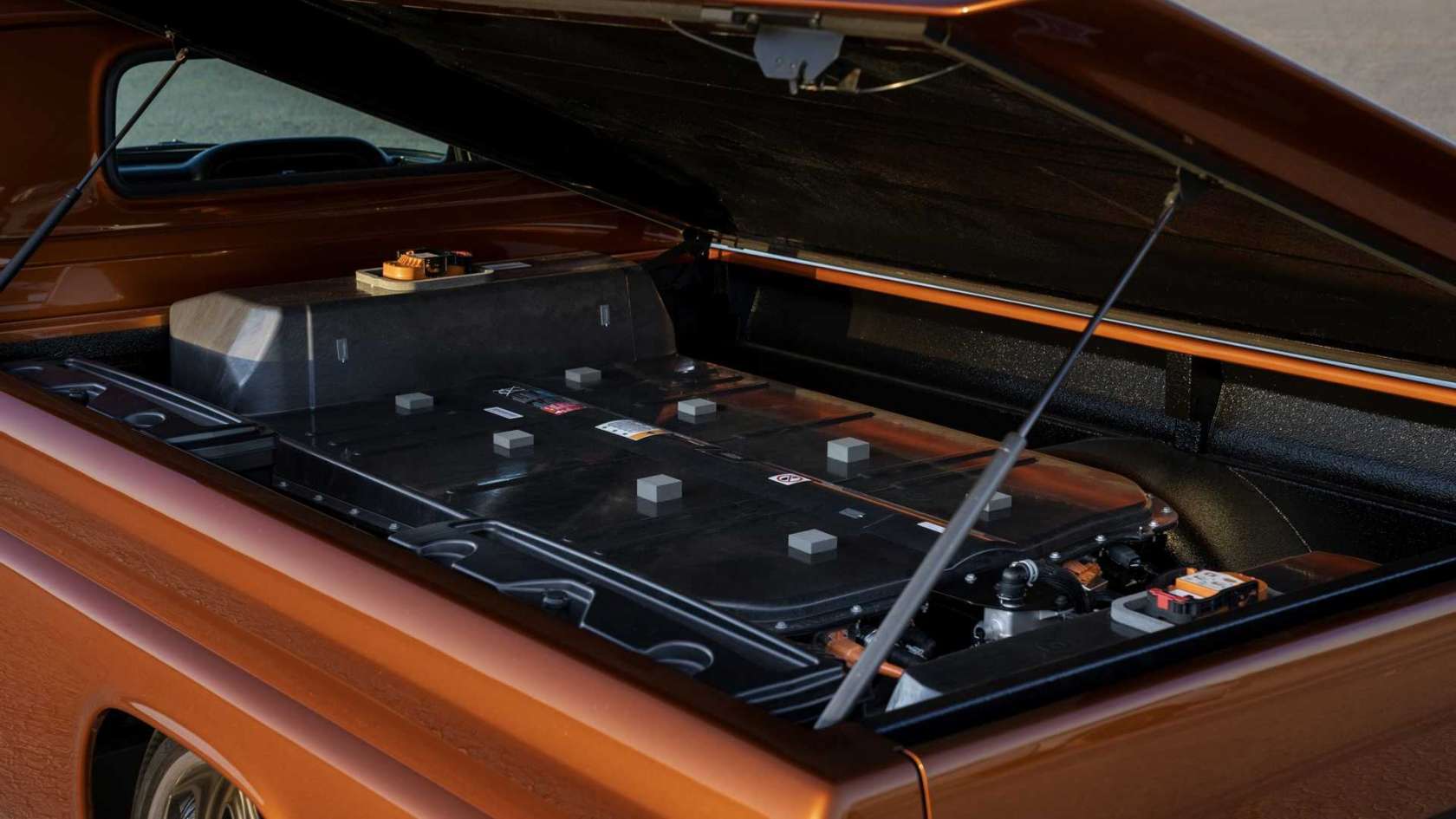 Whether this is a good or bad idea, you decide. Converting a pickup truck to electric power means having the required space to carry larger-capacity battery packs. But on a practical note, the battery layout in the Chevy E-10 gets a poor score. In production-spec, pickups are essentially working trucks, but you can't carry large items in a bed full of batteries, can you?
The Chevy E-10 is based on the production-spec C-10 truck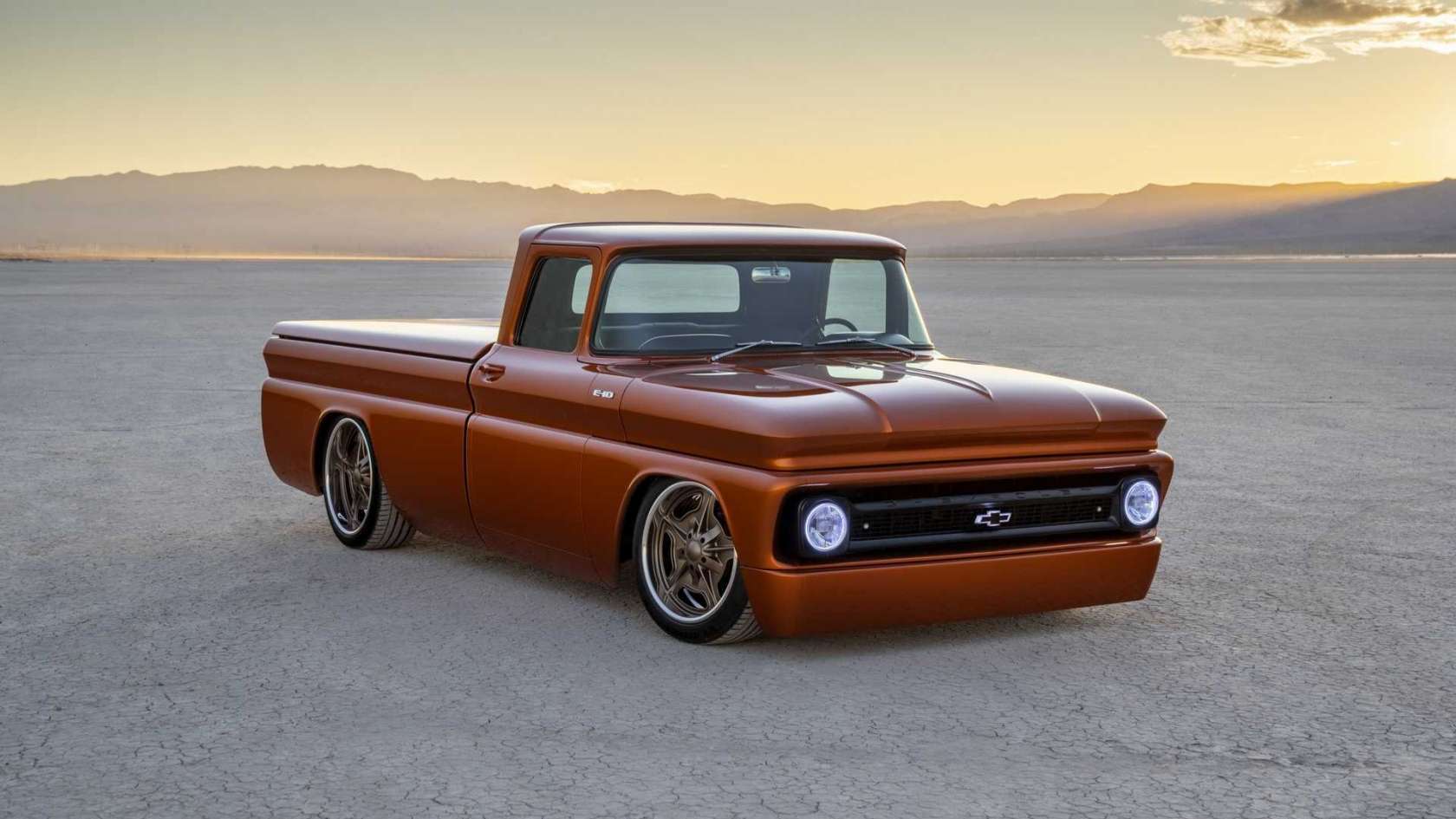 Chevrolet wanted something special for the 2019 Specialty Equipment Market Association (SEMA) event, so they took a 1962 Chevy C-10 and worked from there. All the oily and useless bits were stripped out to make room for a pair of electric crate motors (eCrate), which were designed and engineered by the blokes at Chevy's performance division. The electric motors are crammed inside the hood, perhaps an attempt to balance the weight distribution of the truck.
Aside from the huge battery pack in the truck bed, the Chevy E-10 is essentially left untouched – apart from modern details like an illuminated Chevy logo, lowered suspension, 20-inch and 22-inch wheels for the front and back, and LED headlights and taillights. The interior also receives a digital display screen and leather seats, but the classic dashboard layout remains virtually the same.
Chevy dissected the power electronics from a Bolt EV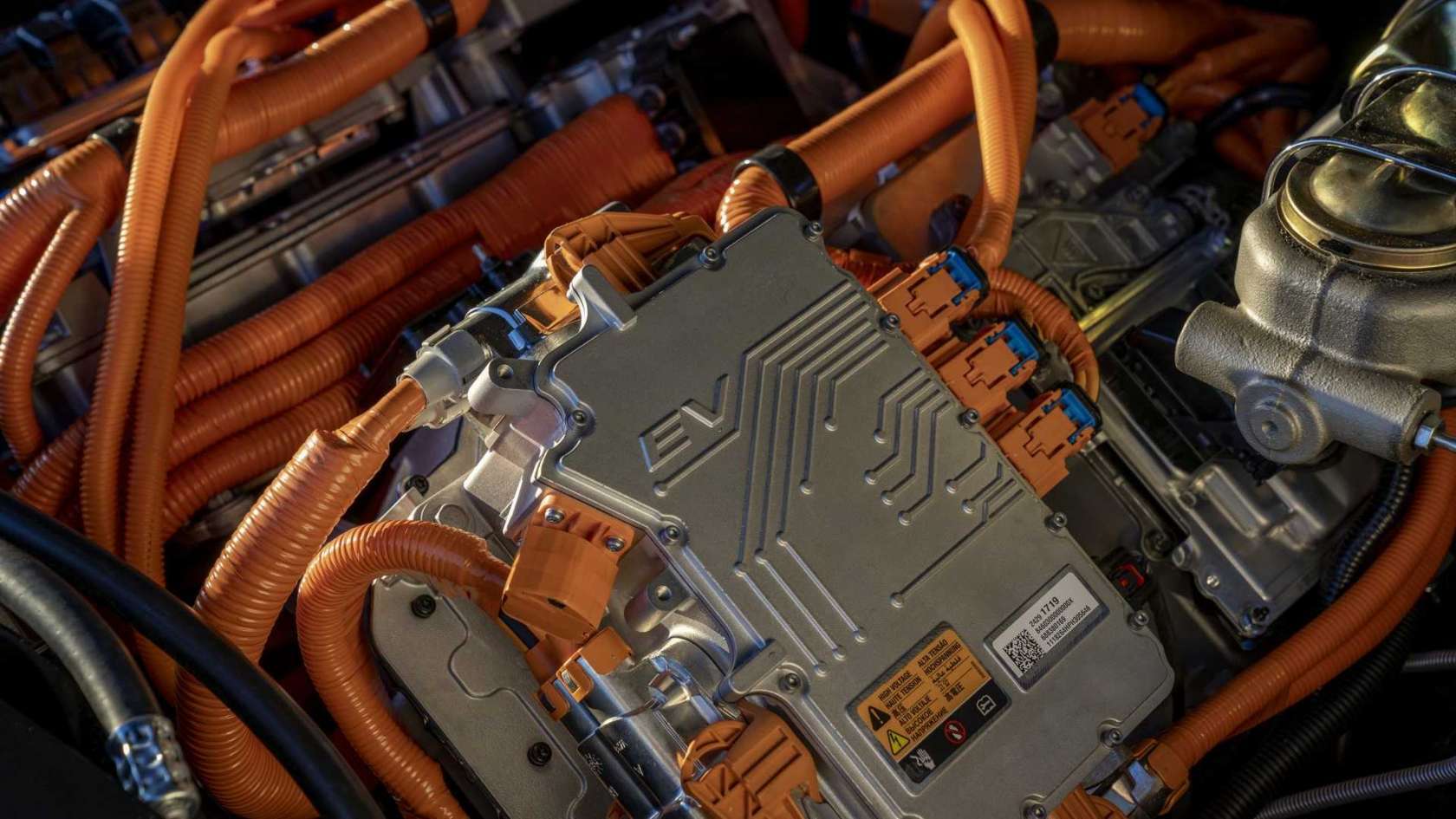 Remember those huge battery packs in the bed? Those were dissected from the Bolt EV and transplanted into the E-10. It consists of two 400-volt/60 kWh battery packs along with the power electronics as well. Chevy also bolted a conventional SuperMatic 4L75-E automatic transmission. It's a four-speed gearbox capable of handling up to 650 pound-feet of torque.
It can scoot like a hot rod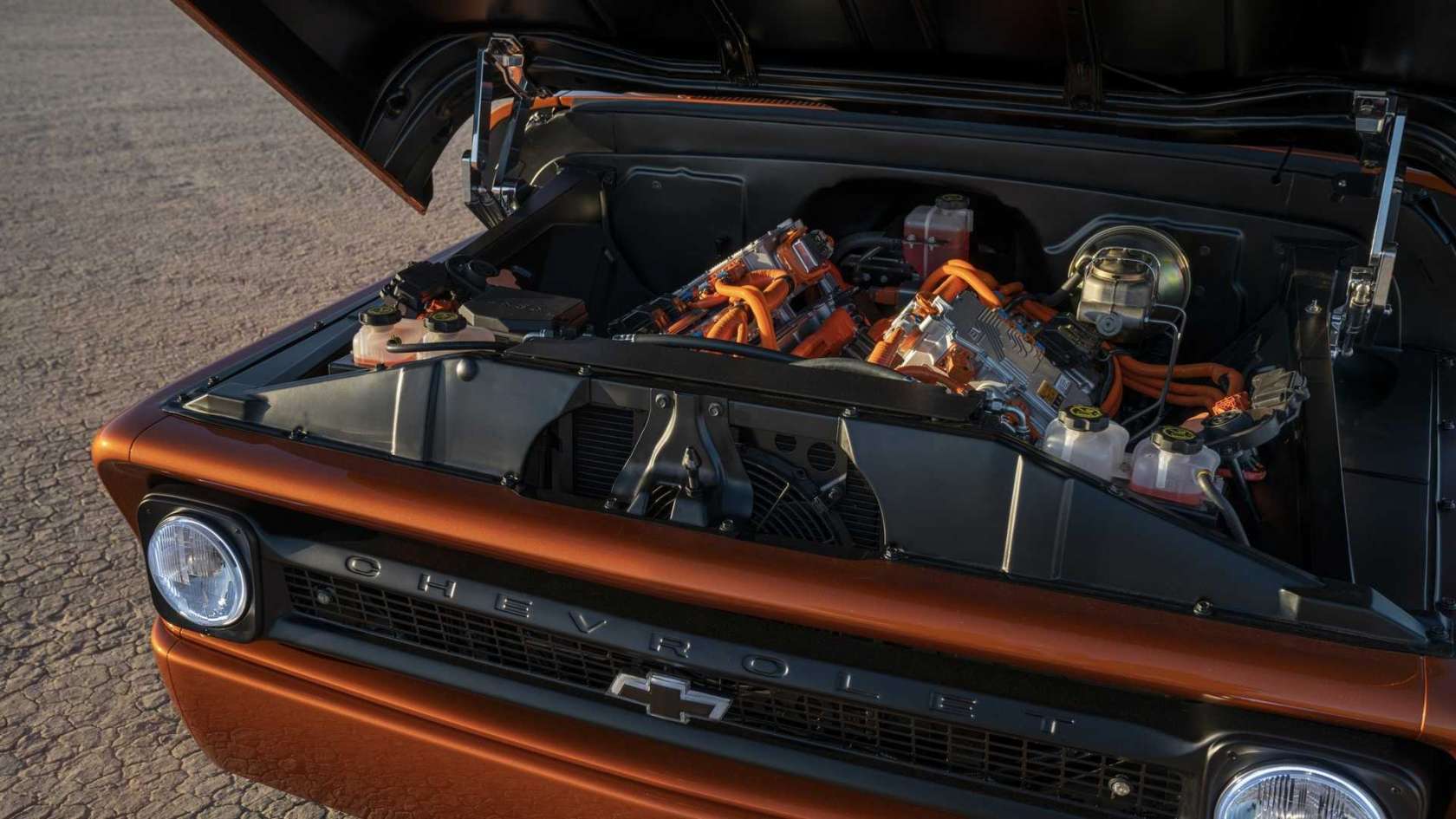 If you've got the looks, you need muscle to back it up. In the world of performance hot rods, the Chevy E-10 is ready to hit the dragstrip. With around 450-horsepower to play with, the E-10 rushes from 0 to 60 mph in around 4-seconds. According to Chevrolet, it achieves the quarter-mile run in the 13-second range.
Not bad for a working concept. But we reckon it can go faster with some weight reduction and a dual-motor AWD setup. Remember, you heard it here first.
Chevy's E-10 EV truck is proof that electric conversions are here to stay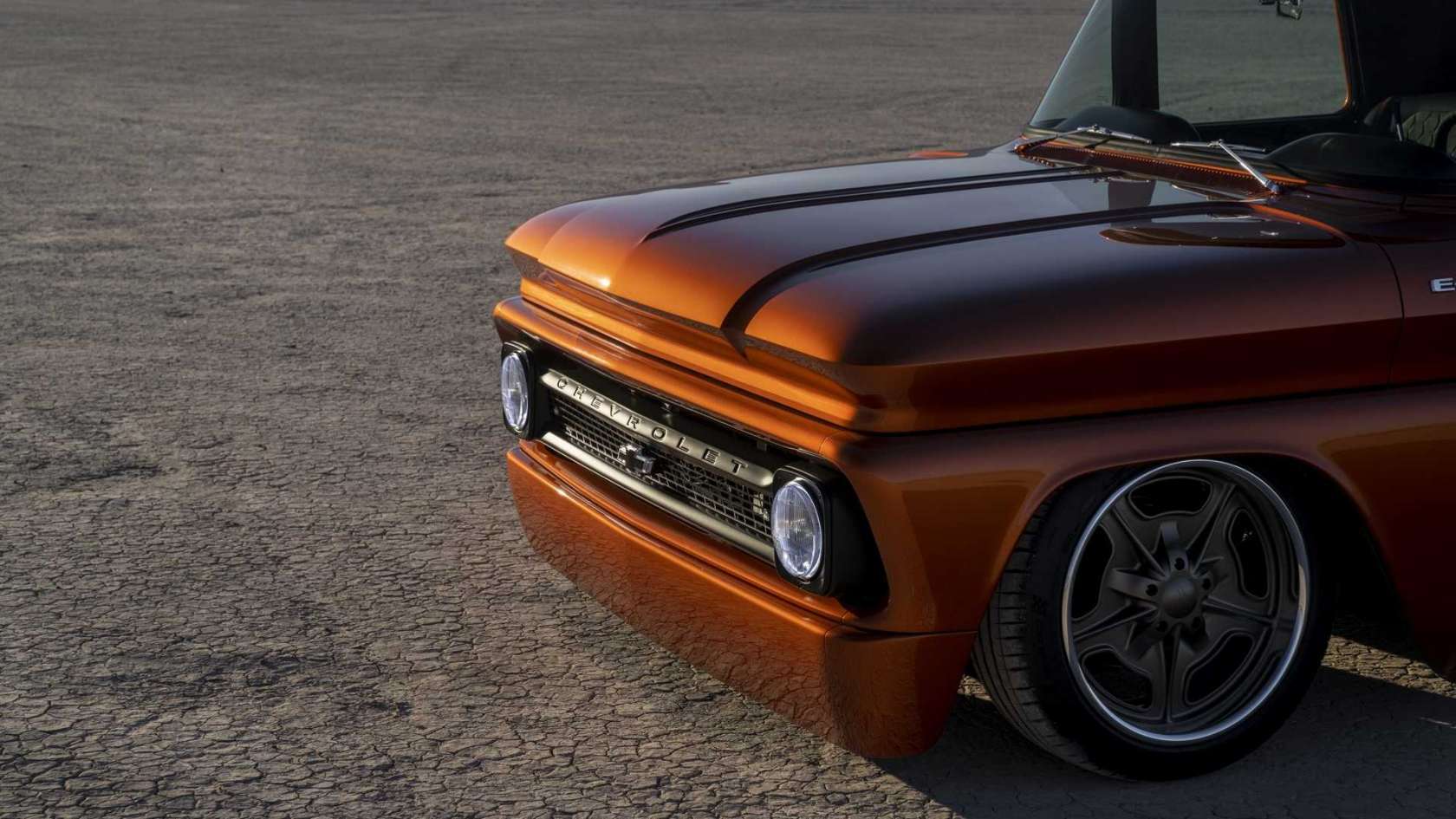 This isn't the first time a gorgeous vintage car was converted from oil-burner to battery-powered. British engineering startup Lunaz has created a full-electric version of the 1953 Jaguar XK120. Previous electric concepts from Mercedes-Benz featured an electric version of the 1901 Mercedes 35 PS, which the German carmaker livingly calls the Simplex Concept.
And the trend continues. Have you heard of the Charge Mustang EV, which is essentially Eleanor with a conscience? The primary reason electric vehicles haven't taken off into the stratosphere is cost. Batteries are expensive to make, and hence the prohibitive price. But if carmakers can sell genuine electric conversion kits based on regular cars, wouldn't it speed up the transition of EVs from niche to mainstream?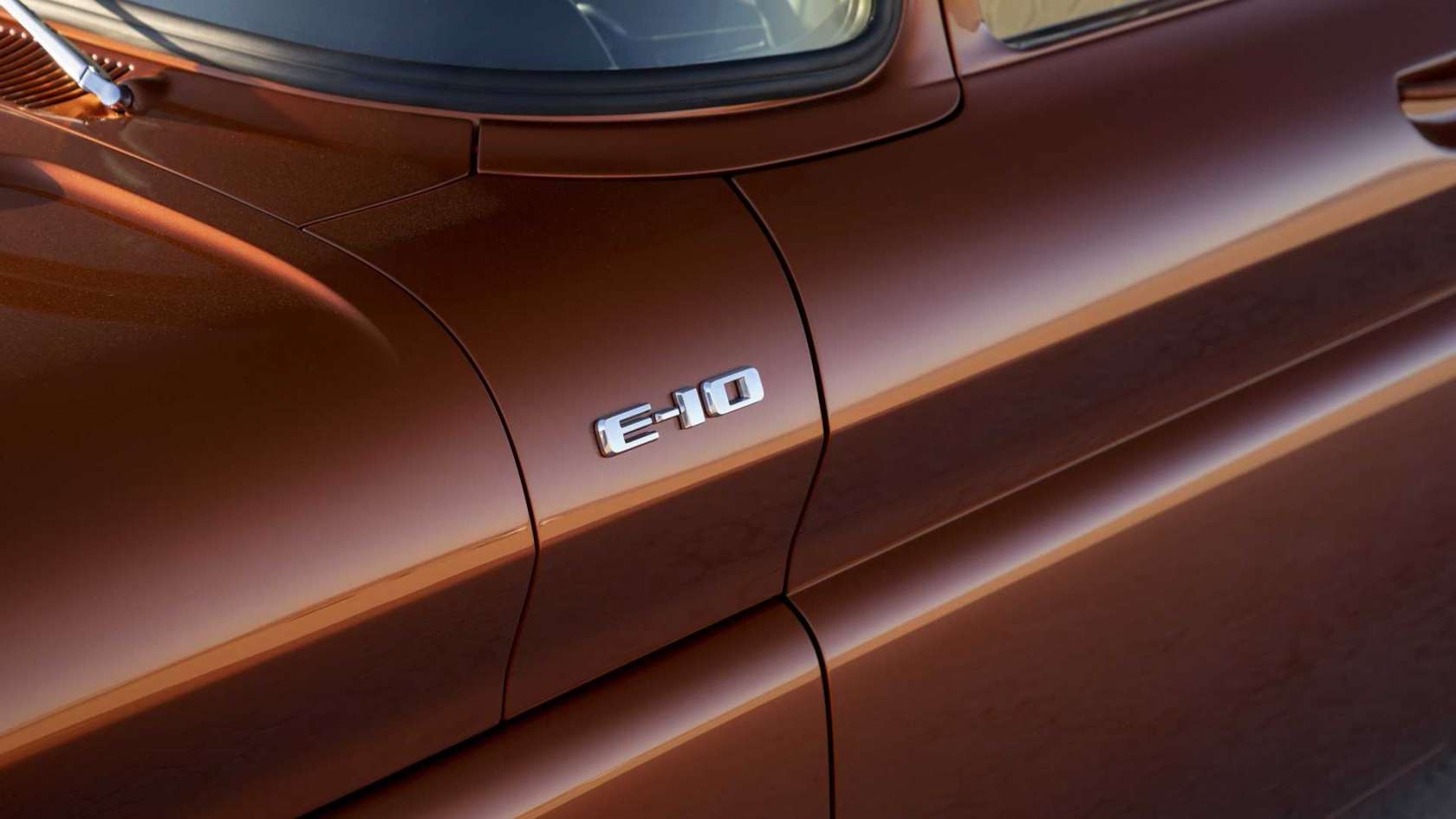 That's what General Motors wanted in the Chevy E-10 Concept. The American carmaker is focusing on a study of creating a Connect & Cruise concept crate propulsion package, a system that is easy to install to an existing vehicle.