Take a look at the bucket list of any young person from Europe and North America, and most probably, you'll find Bangkok on their must go-to Asian destination list. Some people wonder why, as it doesn't have beaches like in Bali, or the Angkor Wat in Siem Reap. But go around the city and you'll find throngs of tourists, backpacking their way to the nation's capital, even after the political unrest of the past years.
Whether it's the friendliness of the people (although communication can sometimes be a problem), the numerous shopping destinations, the unbelievably hot and tasty food, or just the old world meets modern times charm of the city, it is a great place to travel to, especially if you're going out of your comfort zone for the first time. One of the best things about going to Bangkok? You don't have to spend a fortune! Here's our guide on how to travel to this famed Asian city on a budget.
Research and plan your itinerary
Of course this is already a must-do for traveling anywhere. But especially in a place where there is so much to do and see, and probably just a few days to spare, plotting out your itinerary will help in budgeting your entire trip. Trip Advisor is a great place to start as the people in this network are very helpful in giving practical advice, not just what you see when you go to the more polished travel sites and recommendations.
It would also be better to plot out the places you'll go to on a map, either before you leave or when you get there (there are a lot of free maps at the airport) so that you can group the places closest together to avoid jumping all over the place. It will also be cheaper to do so. Which brings us to….
Get a Rabbit card and avoid taxis as much as possible
Most of the places within the city are pretty much accessible by their very efficient train system. If you're going to a lot of places that you can see are within the BTS (Bangkok Mass Transit System) Skytrains, better get the Rabbit card which will cost you around $6, and $1.5 will even be remitted to you when you return the card before you leave Bangkok. If the card runs out of credits, you can just reload it at any of the train stations. Having the Rabbit card will save you the hassle of lining up everytime you need to get on the train.
While the Thais are some of the friendliest people in the world, their taxi drivers are notorious for overcharging tourists and even scamming them at times. Some will give you a very cheap rate, but then will force you to go on a detour to some store that they work for. Tuktuks are great if you don't mind "death defying" rides at times, but they overcharge sometimes too.
Enjoy the street food and food courts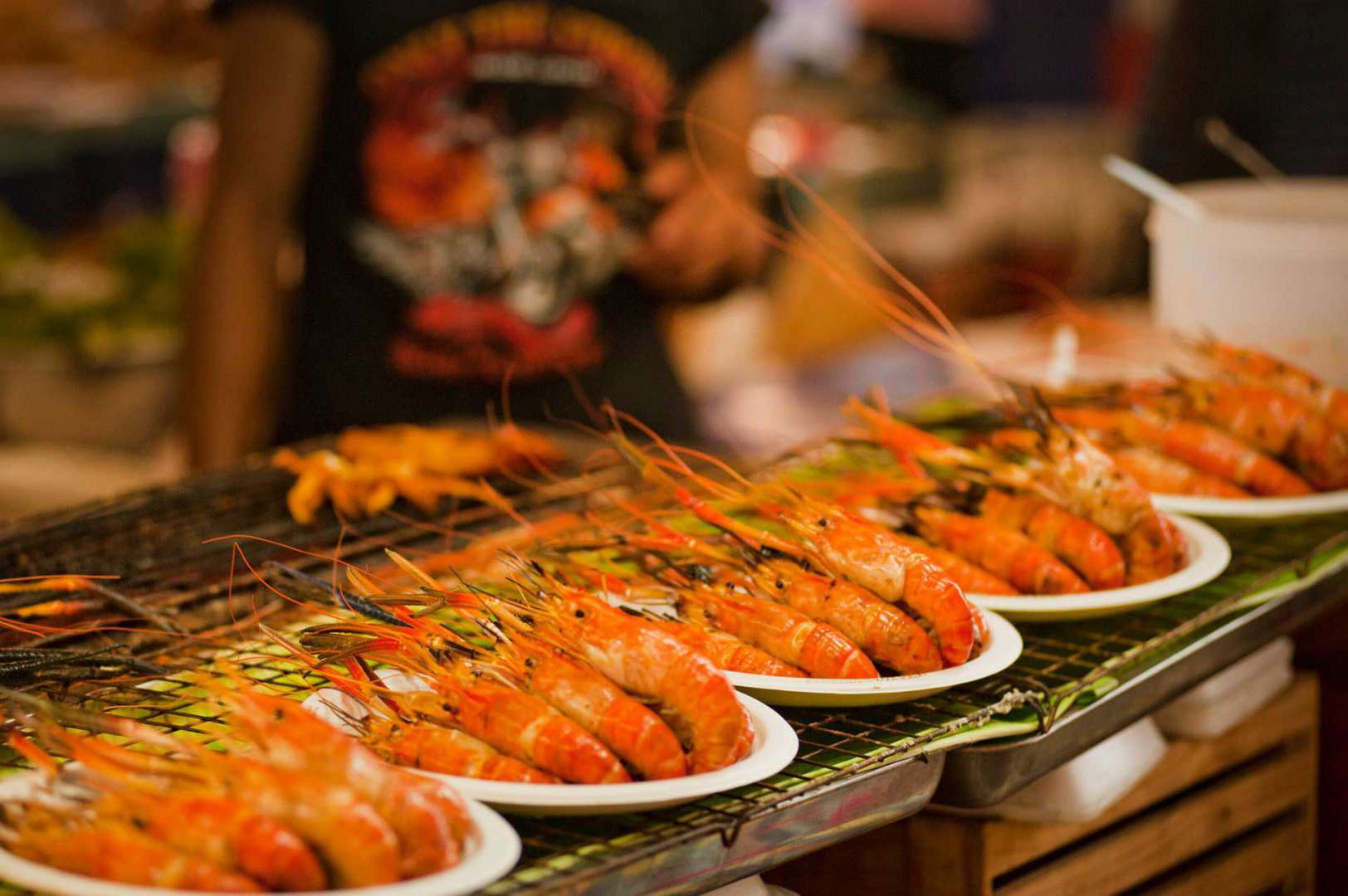 Thai cuisine is famous for its spiciness and is generally appreciated by everyone who has tried it. But you don't need to go to all those fancy dining places to be able to experience authentic Thai food. Don't be afraid to try the street food in places like Chatuchak market (more on that later), Sukhumvit Soi 38, Victory Monument, Chinatown, etc. In fact, almost all major areas in Bangkok have great street food and they're (mostly) clean so don't worry about getting sick or something. You can have a full tummy at less than $1 in most of these places.
If you feel like eating in an air-conditioned area, then go for the food courts in various malls. Some of the best are in Terminal 21, Centralworld, Siam Center, MBK, etc. They have a very efficient way of getting food there (you just load up a card and then use it any of the food stalls) and you can have a full meal at less than $5.
Don't spend all your shopping money in one place
Bangkok is definitely a haven for those who love to shop until you literally drop. It can be so easy to just spend all the money you've set aside in just one place. And when we say shopping money, we don't mean a fortune. In fact, $100 can already buy you lots of little knick knacks, and $200 can get you some great clothes already. Just make sure you set aside some for 3-4 shopping areas because you just might regret having no budget left when you see a cute dress or a cool wire sculpture
Here are some of our suggested places for great, not so expensive shopping:
Chatuchak Market – the biggest in Thailand with over 8000 stalls (open on Saturdays and Sundays only).
Talad Rot Fai – also known as the "hipster night market"; has cheaper stuff than Chatuchak because it's not a very tourist-infested place.
MBK Shopping Center – one of the largest shopping malls with around 2,000 shops and is connected to the more upscale Siam Discovery and Siam Paragon malls.
Platinum Fashion Mall – the clothes here a bit more pricey than in the others we mentioned, but they are definitely nicer and more fashion forward. Bangkok fashion is considered to be one of the best in the region and this mall showcases this.
Get a little culture (but without the tour groups)
While getting tours may be more convenient, it is also more expensive. If you want to go the cheaper but more adventurous route, you can DIY your Bangkok cultural experience. As long as you do your proper research, it will be a breeze. Some of our suggested places to visit:
Jim Thompson House – A museum that showcases old Thai houses, Buddhist and secular art, and the art of silk-weaving. There is a guided tour where you will learn fascinating things about Thai culture and the man who brought Thai silk to the world. Entrance fee is around $3.
Wat Arun (Temple of Dawn) – a beautiful Buddhist temple across the river. Entrance fee is around $1.5. Some of the structures are currently being renovated so you won't be able to access it. Women have to rent a skirt/shawl if they're wearing shorts, short skirts and sleeveless blouses.
Wat Pho – a temple complex that houses around 400 Buddhas, including the very impressive Reclining Buddha, one of the largest single Buddha images, being 160 feet in length. Women will also be given skirts or shawls before they enter the main temples. Entrance fee is around $3. You just need to take a 2 minute boat ride from Wat Arun to get across the river to here.
Grand Palace – a complex of buildings including the palace itself which was the official residence of the Kings of Siam since 1782. It's just a bit of a walk or you can take a tuktuk from Wat Pho. Entrance fee is around $12 and it is only open until 3:30 PM.
Bangkok Arts and Culture Center – a center that houses various art galleries, shops, coffee shops, etc, giving you a look at the more contemporary art and culture of Thailand. There is no entrance fee but there are some floors where you can't take pictures.