Nowadays, many people switch to minimalism. It's more than just a concept but because it's the beginning of becoming more conscious of one's environment. It's more than just an idea but a kind of lifestyle that must be embraced.
While others like to be loud with brands and logos, the minimalists want simplicity coupled with sustainability. And that's what Brandless is all about. The name itself is low-key but it really is a brand.
Being eco-friendly is one way of becoming a real minimalist. Brandless perfectly shows how products look minimalist and yet be sustainable. A new line of eco-friendly products has just been introduced, ready for the travelers who are conscious of everything they consume.
Brandless' mission has always been to develop simple but high-quality items that will last and yet still care for Mother Earth. A travel essentials line is a first from the brand that features sustainable and environment-friendly. The series includes a travel organizer, carry-on luggage, checked bag, belt bag, and a foldable backpack among others. Both luggage feature TSA-approved locks so your stuff are secure.
Travel Products Going Green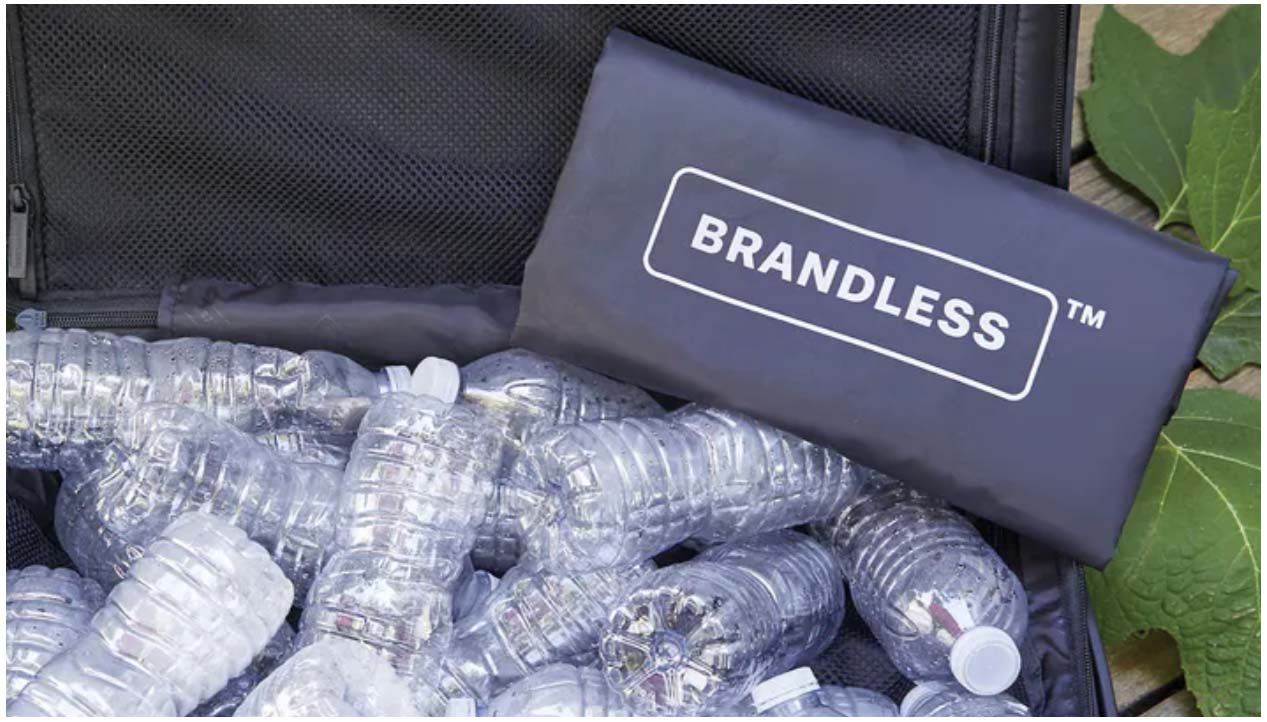 What's great about the collection is that all products were created using recycled PET plastic. They're made from recycled products so you can be at peace. That bag you're using? Zero carbon footprint.
The Brandless Travel Line features streamlined and stylish products. The whole collection actually used just the equivalent of 80 16-ounce recycled plastic water bottles. They are functional, lightweight, sleek-looking, and yes, minimalist.
The brand describes these products with smart details, durable construction, and sustainable materials that let you roam in style.
Check out all the products part of the Brandless Travel Collection:
Brandless Carry On and Checked Luggage
Depending on your travel needs, Brandless offers a 21-inch carry-on ($180) and a slightly larger 24-inch checked suitcase ($220). Both are identical in design, comprised of lightweight Polycarbonate material for the outer shell with reinforced corners, TSA lock, and telescoping handle. Keeping with the sustainability theme, the interior lining is made with recycled PET plastic. Other important
The wheels are on any luggage are one of the most important components so they need to be durable and reliably strong enough for frictionless roll once you load up the suitcase. That being said, they do come with Hinomoto 360-degree spinner wheels.
As with all luggage, be sure to check with your airlines for carry-on size and regulations before you make the purchase. The carry-on model's dimension is 22.6 x 15.2 x 9.4 inches while the larger check-in suitcase measures in at 25.9 x 18.6 x 10.6 inches. They weigh 6.8 and 8.49-pounds, respectively.
Other Brandless Travel Accessories
Brandless Packing Cubes ($40)

Brandless Foldable Backpack ($30)

Belt Bag ($26)

Brandless Travel Pouch ($18)

Brandless Travel Organizer ($22)

Brandless Foldable Tote Bag ($26)
Packing cubes are great for packing more while using less space. The top side is made of sturdy mesh material, wrapped with ringstop material and YKK zippers. It comes in a set of four bags in three different sizes.
When you're traveling, it's handy to be able to pack a compressable-lightweight backpack or foldable tote bag that could come in handy. In the event that you want to have quick access to your phone, passport or wallet, the belt bag might be a good accessory to have. Keeping all your toiletries neatly organized via the travel pouch while your passport and other important documents could be safely stored in the travel organize.
You can purchase all these items from HERE.