The purists and minimalists will love this. We've seen similar concept phones before but this one is attainable, at least, if the Kickstarter Project becomes successful. The project's deadline is still 15 days to go but the $100,000 goal has already been reached. Thanks to some 875 backers for the over $220,000 pledges.
The design team Mudita's goal is to make phones and other devices that are mindful of the wellbeing of the consumers. It's not just about digital wellbeing but also mental and physical.
Digital Distractions Must Be Kept to a Minimum
The New York-based Mudita believes digital distractions can be eliminated. Oftentimes, phone functionalities become excessive. Information becomes irrelevant and there is the danger of having to absorb them all. They're not always necessary but people these days tend to just go with the flow.
Technology has isolated many people from others but this Mudita Pure can help you and me go back to the basics. There once was a world not overtaken by mobile devices and the Internet—and we want to take it back.
This Mudita Pure may look like an aircon remote at first glance but it really is just a phone but now with fewer distractions. There is no touchscreen—only an E-ink display. The physical buttons are present including the number keys and a circular one that we're assuming works as a trackpad. The two buttons on each side could be the call and reject buttons.
Back to Basics, Not the Future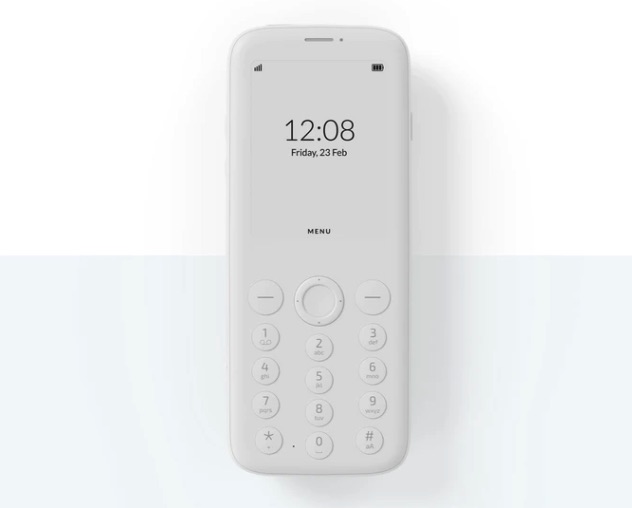 Mudita Pure comes in white and Charcoal Black. The version is inverted. Instead of white, the screen will be black. With it as your secondary phone or even your main phone, you won't be tempted to scroll down to check your social media apps.
So what can you do with the Mudita Phone? Make calls, send texts, use the meditation time, and enjoy the e-ink display. It's very limited so don't be surprised about the long-lasting battery. This one also features an alarm clock, calendar, notes, Bluetooth, music player, and Ultralow SAR. It's not exactly a smartphone. It's just a feature phone that will have you getting back to the real world.
Classic Will Never Go Out of Style
Designed in Europe, the Mudita Pure looks classy yet minimalist. We like the pure white look and feel. It doesn't have any Internet connection but you can use it to connect your laptop like a modem.
Pledge $258 to get a Mudita Pure phone by April 2020. Other pledge options are listed right on Kickstarter.