Nissan has created what it calls the 'ultimate urban commuter' with the IMk Concept EV. It's riding on a small and compact footprint reminiscent of those cute and practical kei cars in Japan. The all-new EV platform is expected to underpin future EV models from Nissan. The IMk Concept is also infused with a sprinkling of luxury and technology, further emphasizing the Japanese carmaker's commitment to all-electric mobility.
The Nissan IMk Concept is a chic urban commuter
In a way, we're glad Nissan ditched the Leaf design idiom in creating the IMk concept. Instead of a traditional three-box sedan or five-door hatchback, the IMk is like a shrunken minivan with taller proportions and flatter body panels. Nissan calls this new design philosophy Timeless Japanese Futurism and adopts Japanese-inspired elements and motifs.
"The IMk fuses a modern, clean look, driven by its Japanese heritage, with cutting-edge EV technology," said Satoru Tai, executive design director at Nissan. "As a small EV for a new era, the Nissan IMk is designed to be at home in sophisticated cityscapes as much as in traditional Japanese towns."
It's an EV meant to rule the streets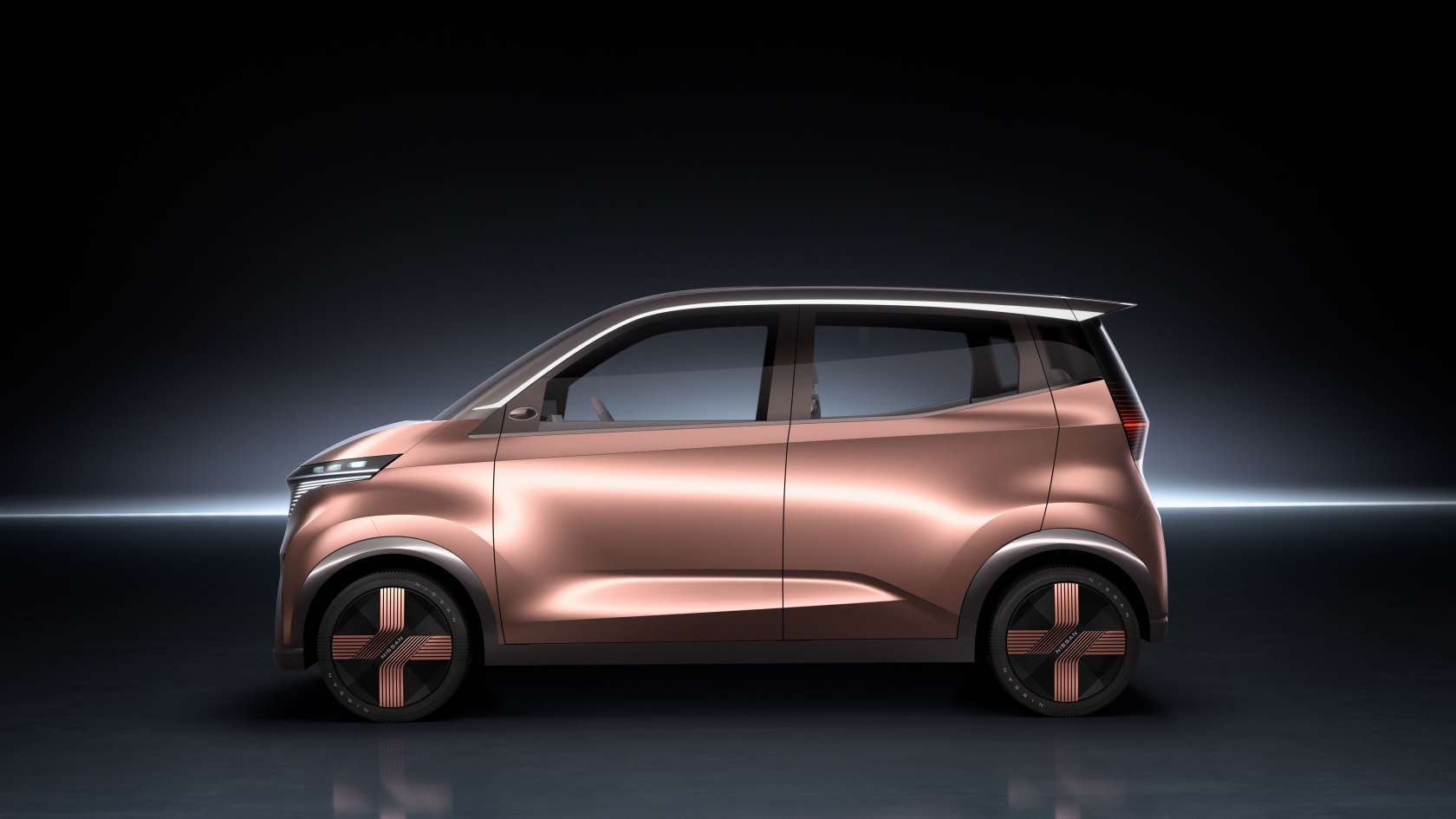 Much in the same way the cutesy Honda e charmed its way at this year's Geneva International Motor Show, the Nissan IMk Concept EV is relying on its tailored design elements in the small EV segment. "Unconstrained by conventional concepts of the kei car segment, its design is interwoven with Japanese culture. It's a luxury small EV that I hope a lot of customers are going to drive," said Tai.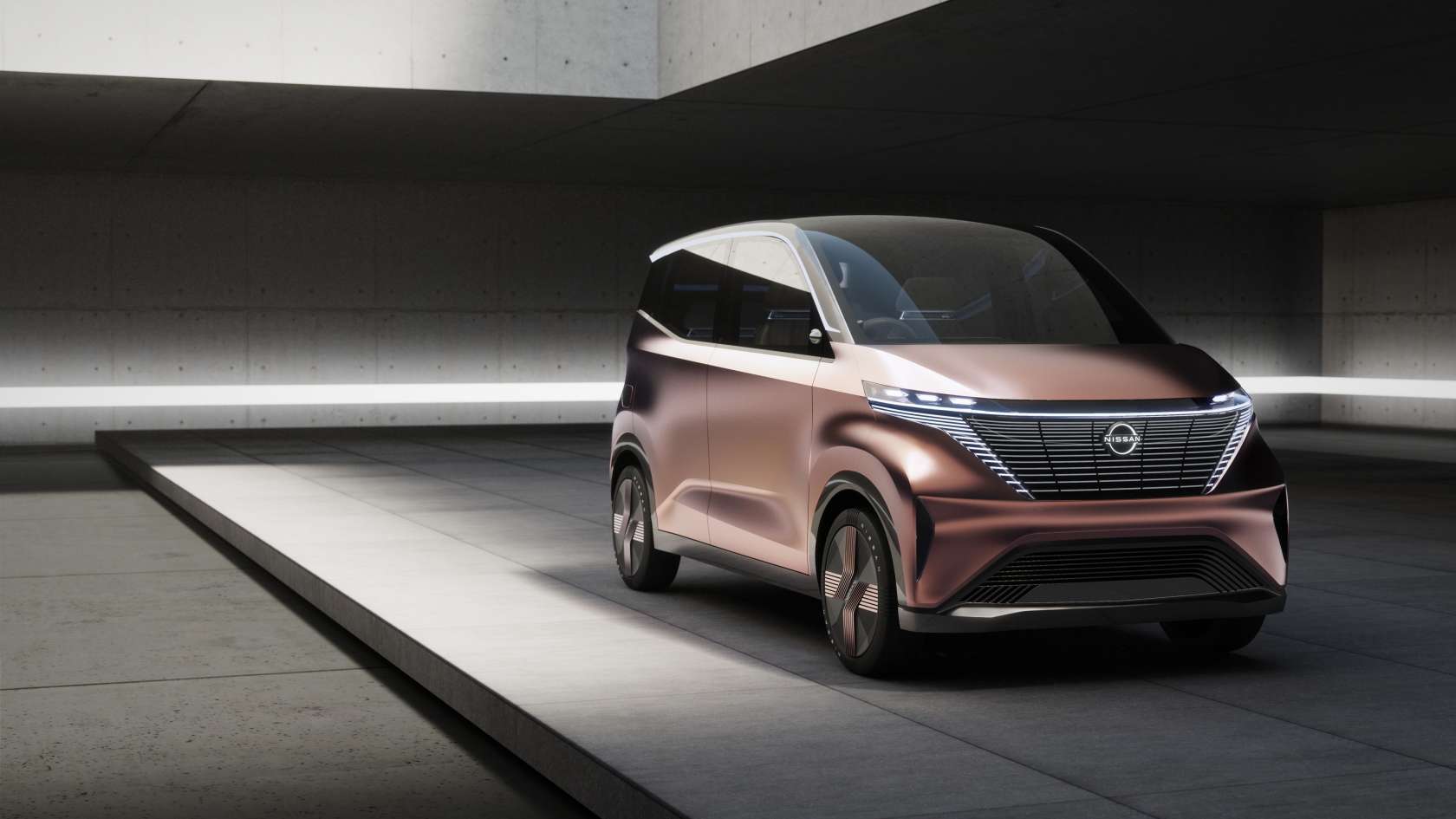 The signature Nissan V-motion grille is now flatter and cleaner. Along with the new combination taillights, both designs were inspired by traditional Japanese woodwork. Meanwhile, the bumper, wheels, windows, roof, and that high mount rear spoiler are created borrowing design elements from mizuhiki, which is a thin slice of Japanese rice paper.
Funnily enough, the Nissan IMk is not an edible piece of rolling art. But it seamlessly blends the old and new to create an inspiring and relaxing space on the road.
Metallic copper is the paint color of choice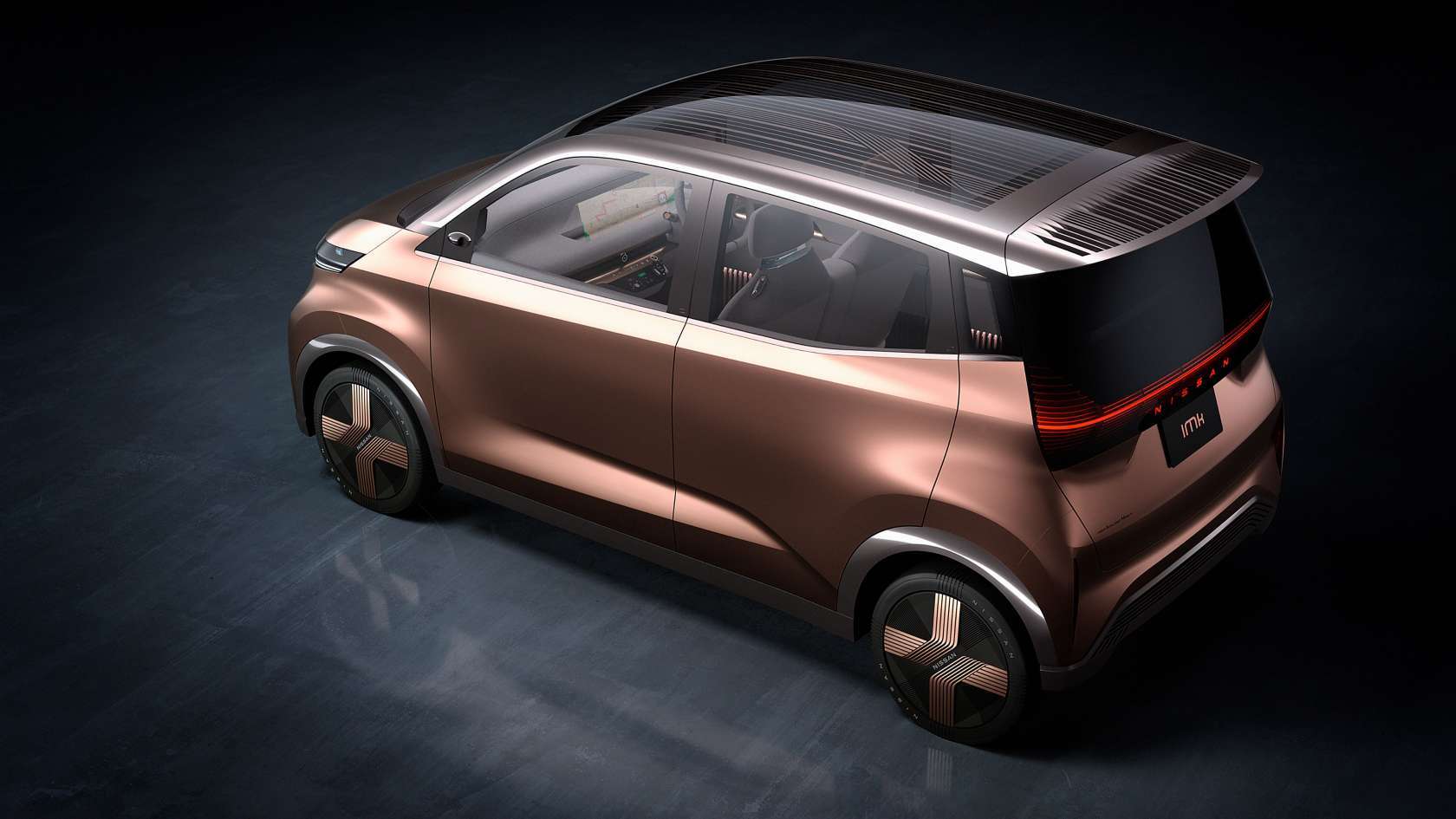 The first thing that struck us in Nissan's IMk Concept EV is not the tall-boy shape, but rather the unique reddish copper metallic finish. According to Nissan, the Akagame paint scheme harks back to traditional Japanese artisans who tirelessly formed copper into marvelous pieces of art. We first saw this color appear in Nissan and Italdesign's gorgeous rendition of the highly-desirable GT-R50, and it looks good in the IMk Concept.
The interior shows a minimalistic and clean approach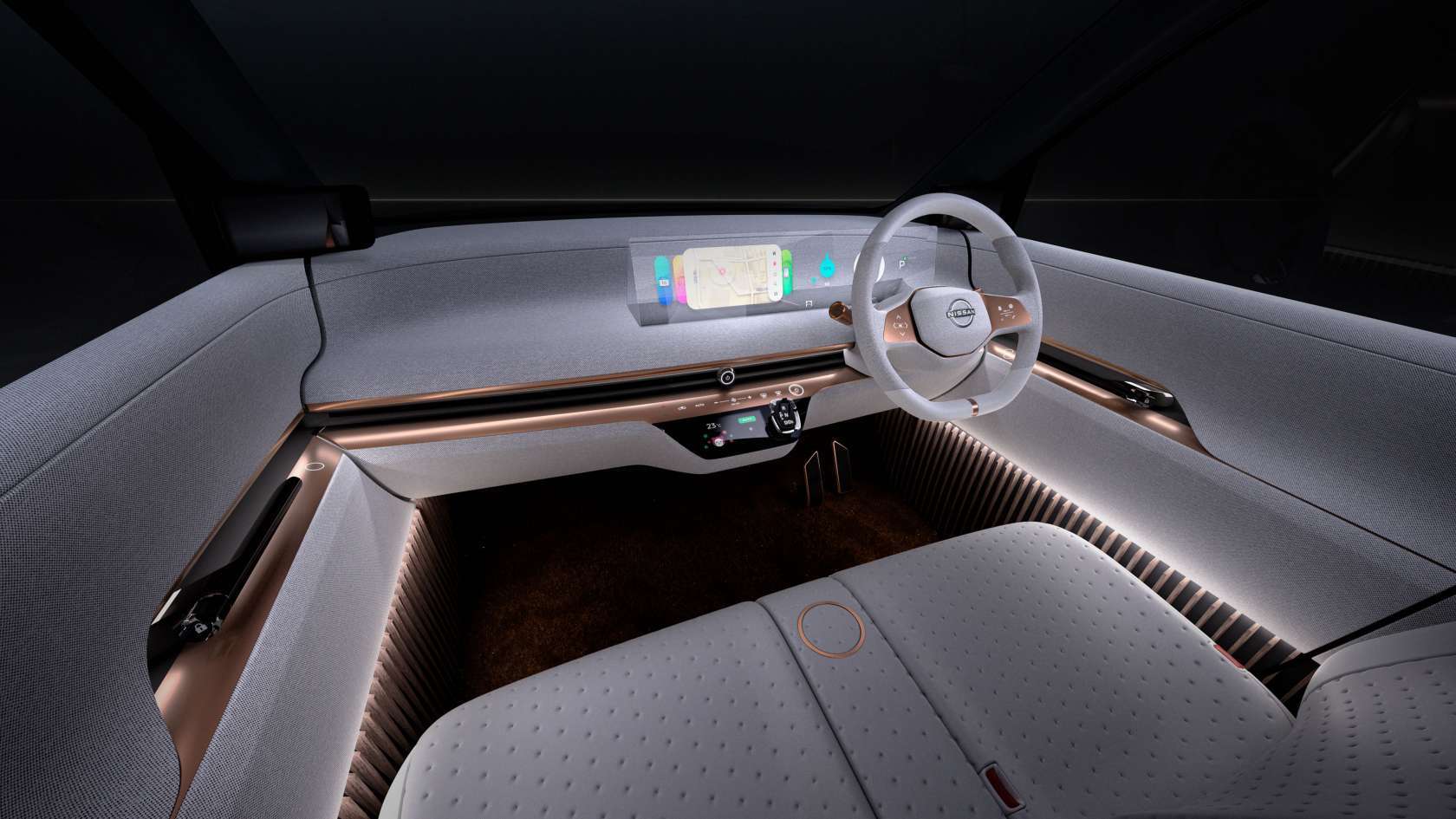 The interior of the Nissan IMk Concept EV is a triumph in minimalistic design, with only the shifter and starter button presenting the only physical buttons on the dash. The car has bench-style seating to create a relaxing driving environment.
In this configuration, we reckon the IMk is good for up to six passengers with three-abreast seating in the front and rear. The door sections and dashboard are covered in light tonal materials while Akagane reddish copper accents brighten up an otherwise plain-Jane interior.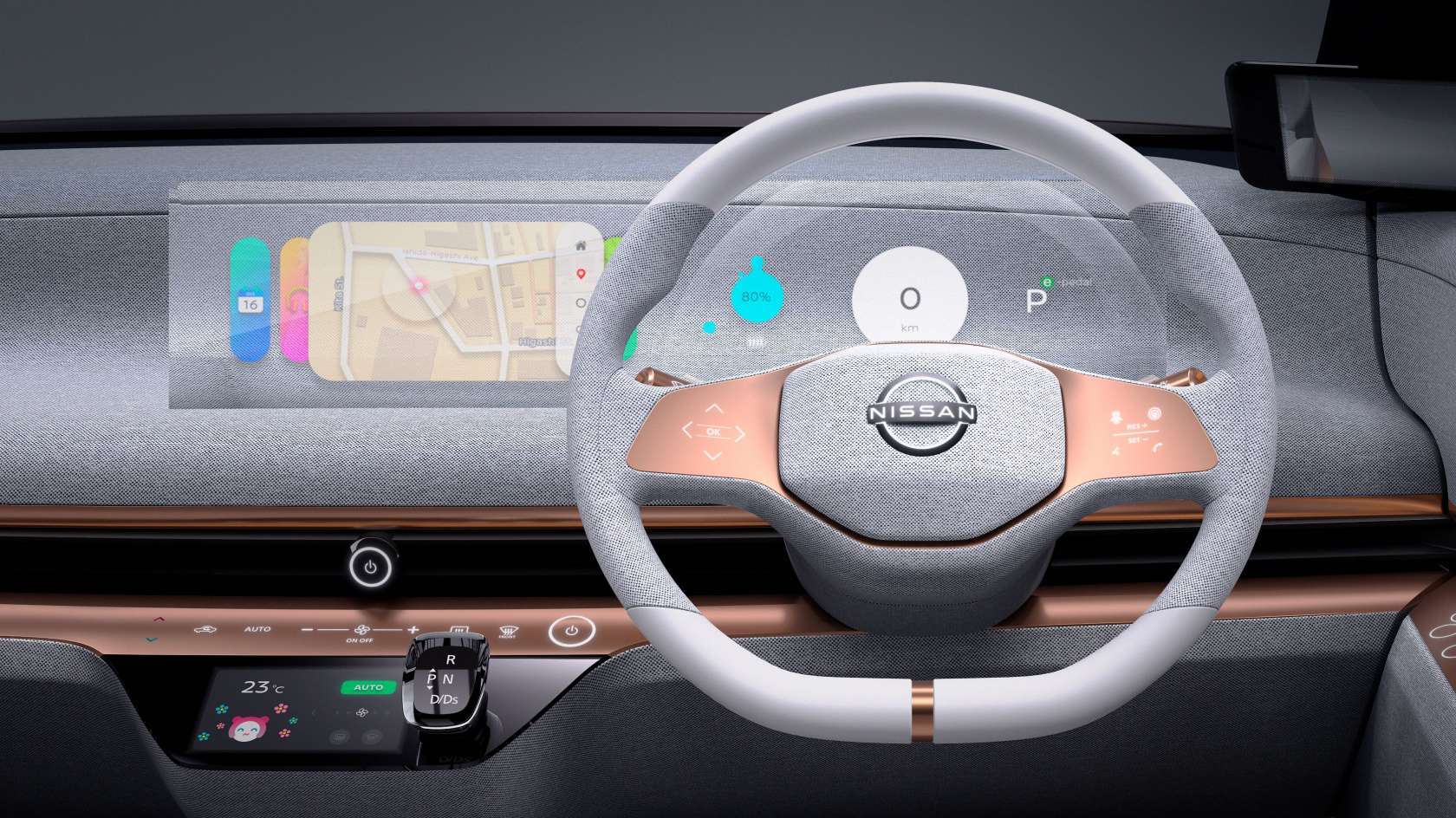 On the other hand, the best cabin feature in the IMk Concept EV is the bezel-less prism display. It's basically a holographic display that presents vital information like driving speed and navigation directions. "The IMk was never about being roomier than a traditional small car. It was about being an upscale, stylish partner that gives occupants a chic, elegant space to enjoy," added Tai. "We could have kept all the surfaces inside the IMk's cabin flat, which would have equated to more physical space. But if we did that, we would have lost some of its beauty."
The Nissan IMk Concept is an autonomous electric car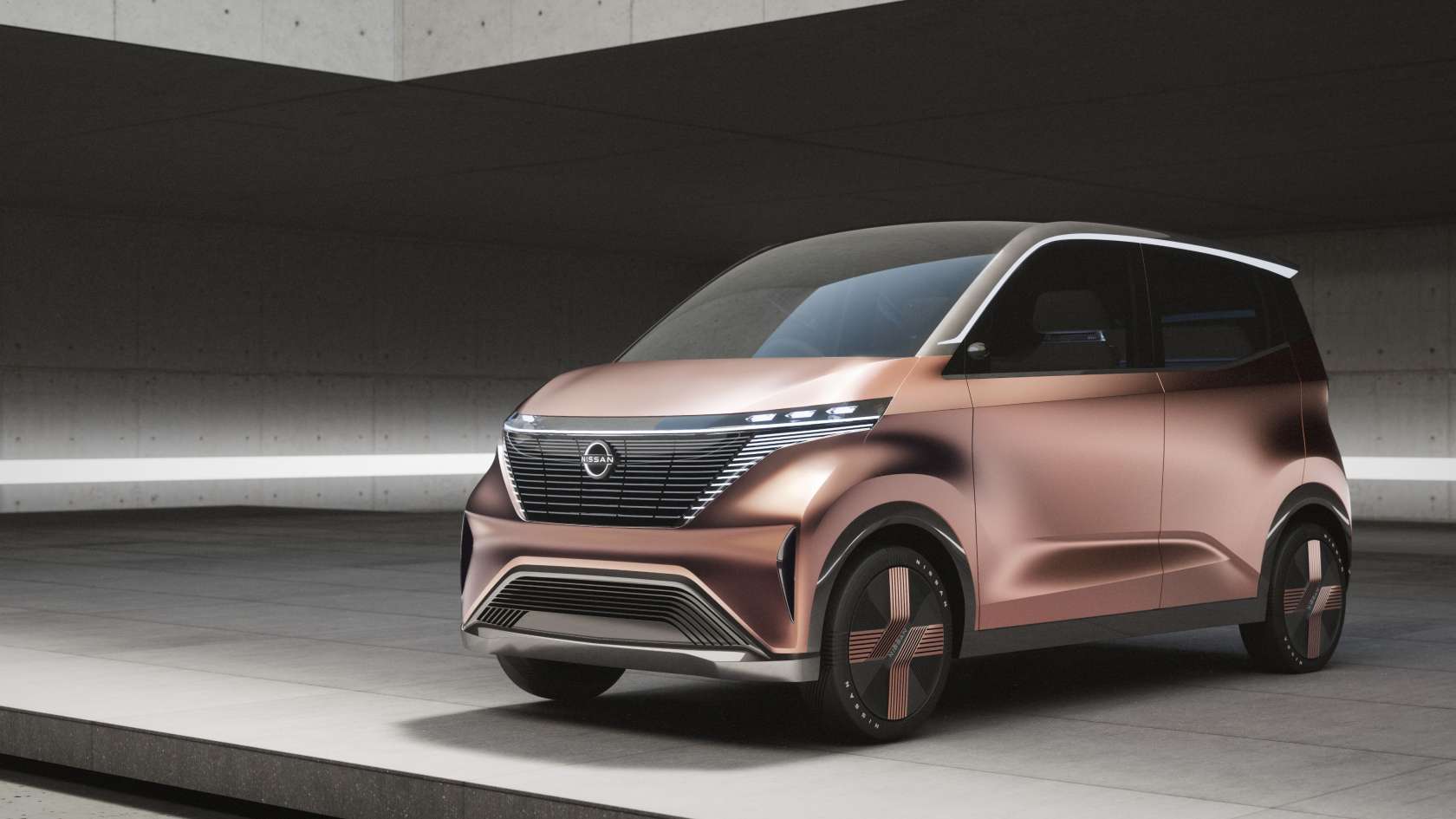 According to Nissan, the IMK Concept EV symbolizes a brave new step in fully autonomous driving. Utilizing an advanced version of ProPILOT 2.0, the car enables navigated highway driving and hands-off single-lane driving capabilities. It even comes with a Remote Park valet feature that allows the vehicle to automatically search for available parking spaces.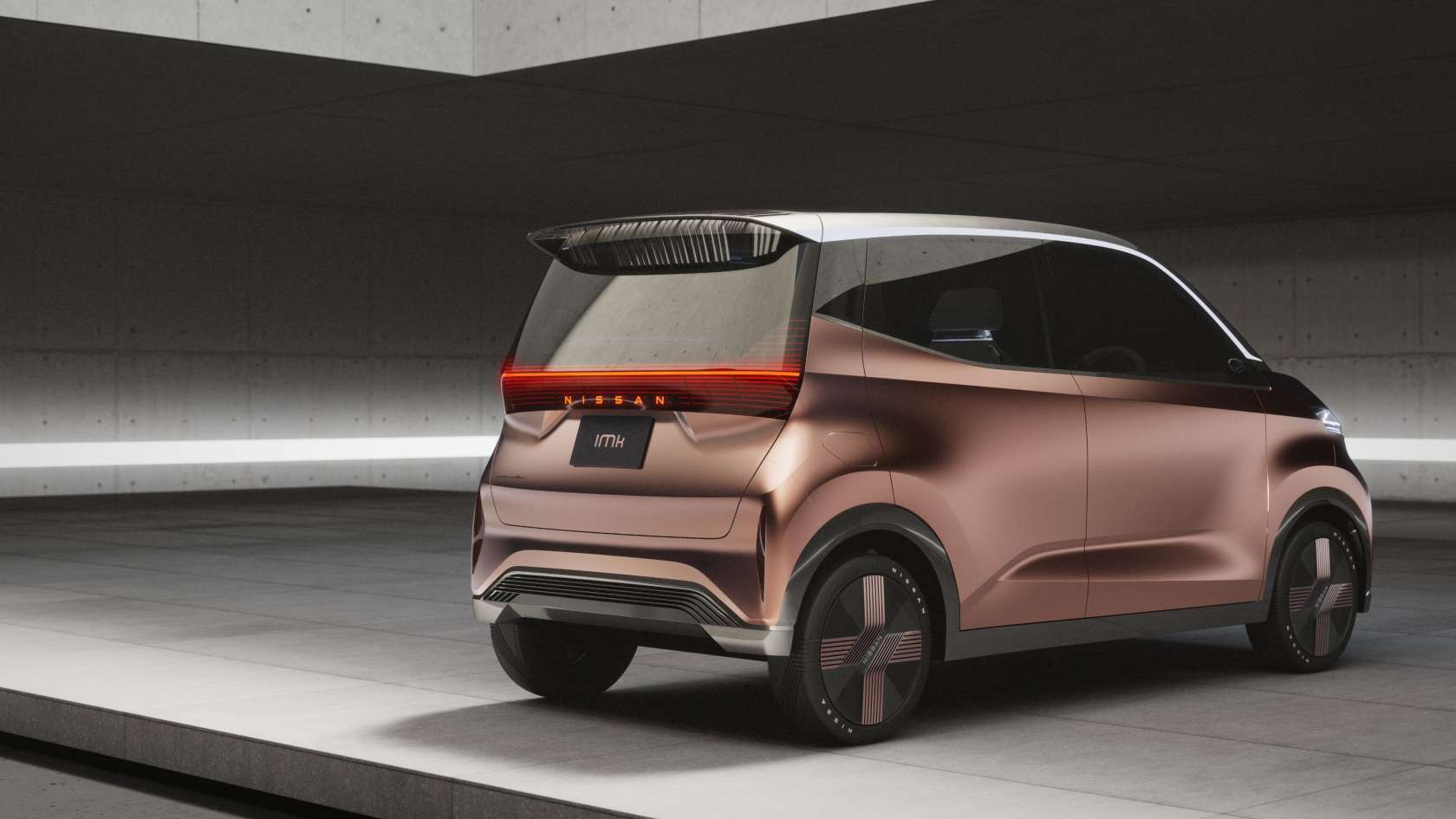 Nissan failed to divulge powertrain configurations and driving range for the IMk concept EV, but the Japanese automaker says the vehicle has a lower center of gravity and a single electric motor. The IMk is only a concept for now, but we can't help imagining this vehicle running head-to-head with the Honda e and other small EVs in the very near future.
Nissan IMk Concept EV Image Gallery