Everyone is going retro these days. It's not bad. In fact, it's something many types of people and industries like to do. Geeks do retro versions while businesses cash in on the idea.
Collecting and listening to vinyl may be old school but it is much appreciated right now. Many audiophiles turn to the classics by listening to vinyl. There is nothing wrong with going digital but there is something special with hearing music on vinyl records.
Vinyl Records are Previous
There are avid collectors who do everything in their power to protect their records. At this point, it doesn't really matter what player do you have as long as the vinyl copy is good.
But then there are many vinyl record players available from different brands. Which brand is yours?
Retro Modern Will Always Be Trendy
What better way to showcase your vinyl collection than this special vinyl table. Records need to be well taken care of. You don't just store them in boxes though. You can show them off.
Check out The Vinyl Table from HRDL. The console table is expensive for a reason. It's designed especially for your favorite vinyl albums. Showcase them as if art pieces or your most prized possessions.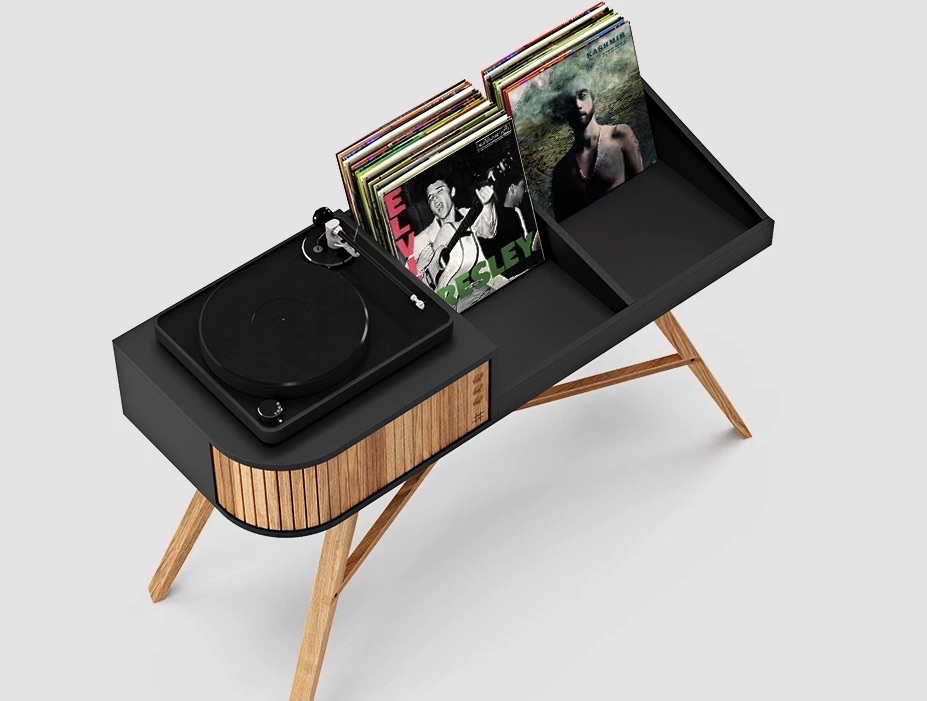 The special table has its limits. It can only accommodate two hundred vinyl records. That's okay. The rest of your albums you can probably store in a bookshelf nearby. Behind the table is a space covered by a tambour sliding door where you can place a receiver or an amplifier.
Whatever turntable model you have, it can complement the retro minimalist design of The Vinyl Table. Having your favorite tunes at a hand's reach will make listening to music a delight. It's even better when the player and records are set in a piece of furniture that's been handmade with the highest quality and standard.
The novelty of $1,795 Vinyl Table is that it is handmade upon order (4 to 5 weeks). It is not mass-produced. It is also sturdy, boasting a timeless yet elegant design. It measures 120cm (47.2in) x 20cm (7.87in) x 45cm (17.7in). With a total height of 75cm (29.5in) when you include the legs.
Choose from the following color combos: Black Valchromat with Oak, Light Gray Valchromat with Walnut, or Flat White with Walnut. Purchase THE VINYL TABLE from HRDL.