British automaker Bentley recently unveiled a rather odd yet sporting Continental GT finished in an unusual green paint job. As it turns out, Bentley has created a limited edition Continental GT to celebrate the carmaker's historic Pikes Peak hill climb record this year.
While the Radium by Mulliner paint job is a love-it or hate-it affair, there are other details that make this exclusive Continental GT stand out.
The Pikes Peak Continental GT has a carbon-fiber body kit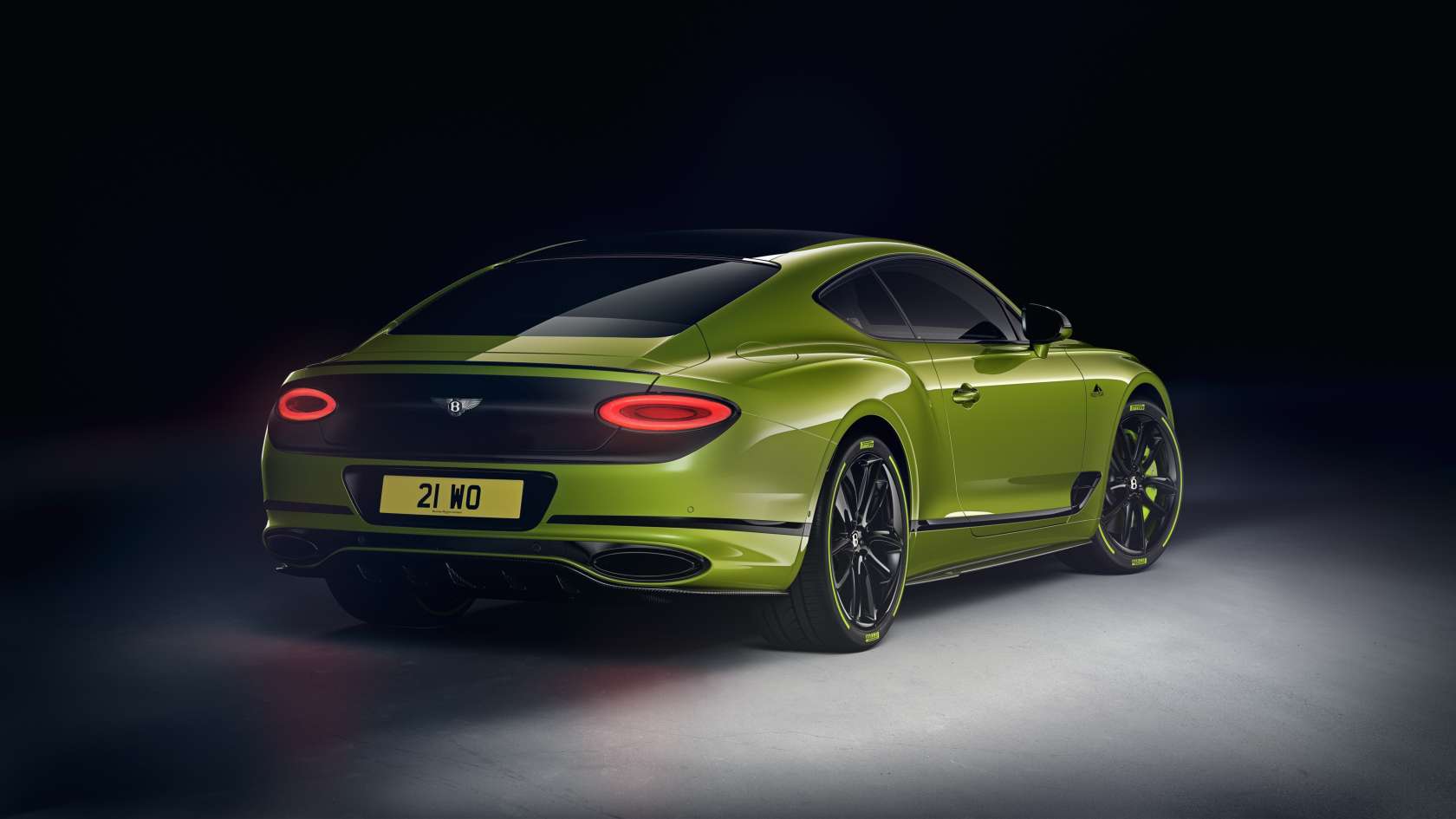 Besides the striking green paint scheme (you can also have it in black), this particular Continental GT is equipped with a carbon-fiber body kit. Providing the perfect contrast against a green backdrop, this particular theme echoes the color scheme of the record-breaking car.
Additionally, Bentley added gloss black detailing to the lower bumper inserts, roof panel, wing mirrors, and on the rear of the vehicle.
It has acid green brake calipers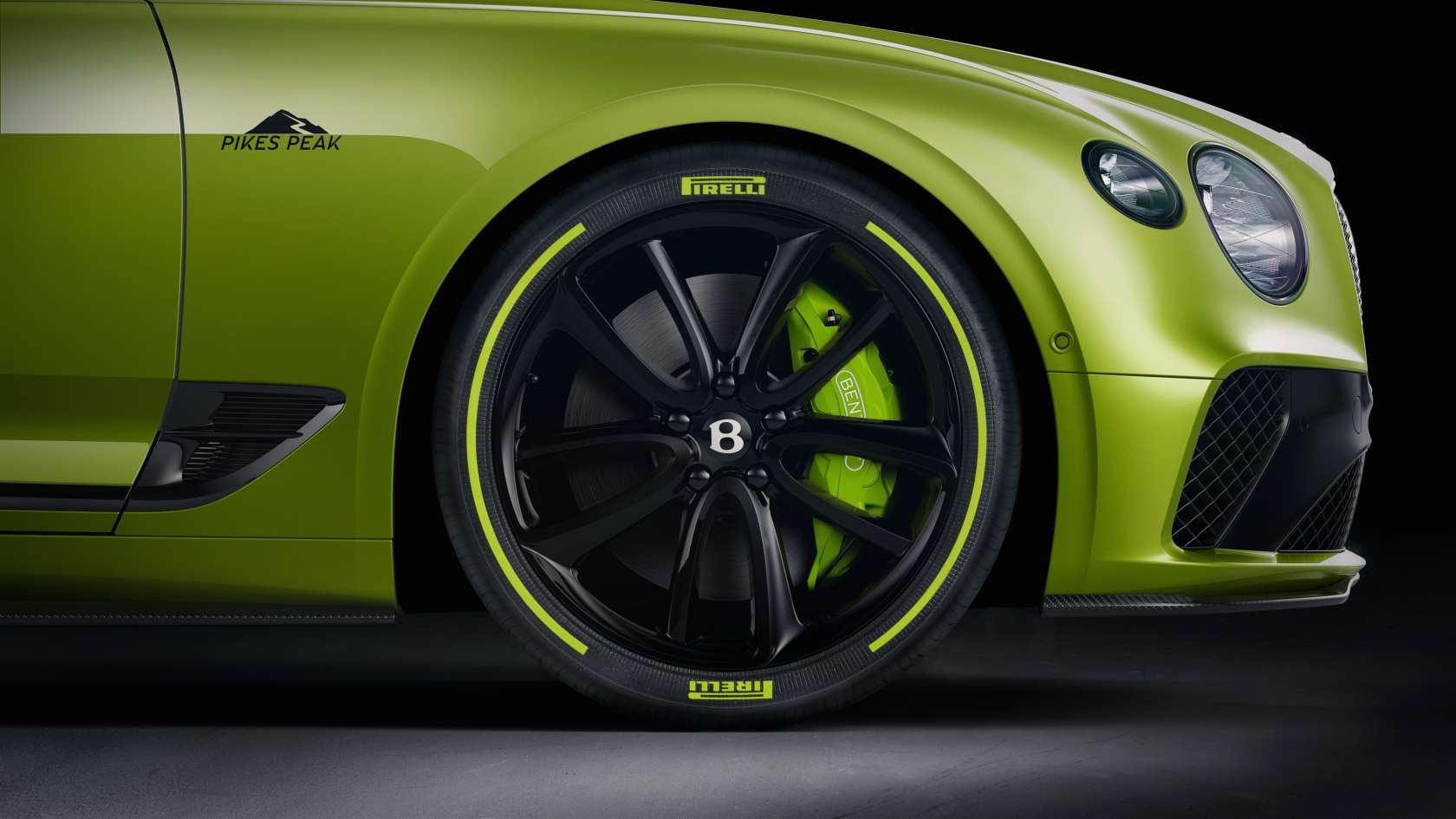 If you can have a GT car painted in radioactive green, why not throw in a set of acid green brake calipers into the equation? And while we're at it, there's a new set of 22-inch Mulliner-spec gloss black wheels and Pirelli P Zero Color Edition tires to complete the look.
Sounds crazy for a Bentley Continental GT, right? As it turns out, Bentley has every right to go crazy with its Pikes Peak car. The reason is Bentley broke the record in spectacular fashion, hence the reason for the wild yet highly desirable theme.
Bentley is celebrating 100 years of existence by breaking records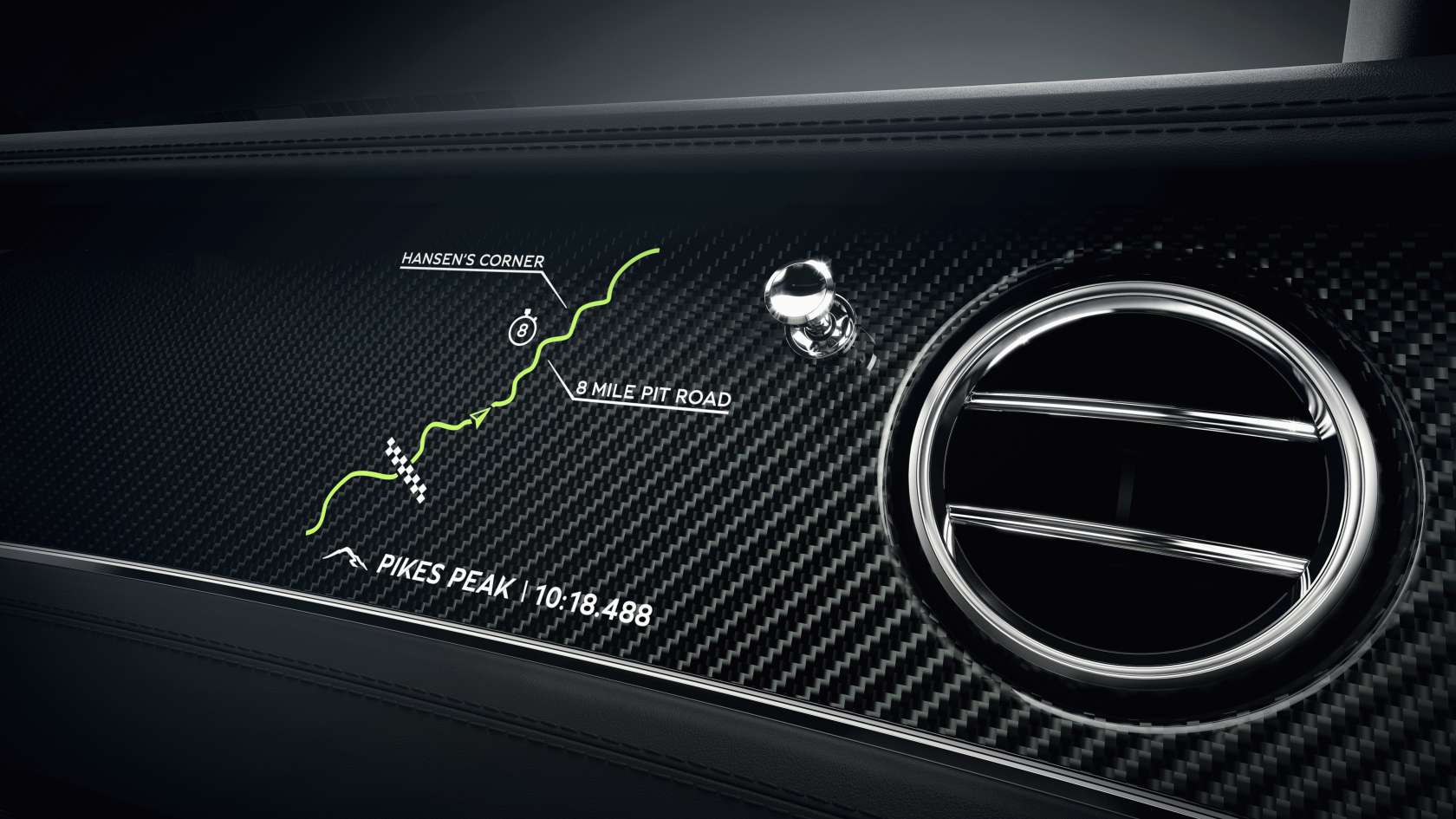 Back in June, three-time King of the Mountain title holder Rhys Millen piloted a Continental GT up the hills of Pikes Peak in Colorado. Millen achieved the feat in just ten minutes and 18.4 seconds, which is 8.4-seconds faster than the existing record up the treacherous 12.42-mile racecourse.
This makes the Bentley Continental GT the fastest production car to ever climb Pikes Peak. Millen had a magnificent W12 engine to count on as both car and driver climbed to almost 5,000 feet while going through 156 bends in record time.
"The new Limited Edition Continental GT is distinguished by a number of carefully curated features to honor that outstanding record run. It reflects Bentley's spirit of endeavor, one that has been a constant throughout the last 100 years and remains at the beating heart of the company," said Chris Craft, Member of the Board for Sales, Marketing and Aftersales at Bentley Motors.
The cabin also receives the Pikes Peak treatment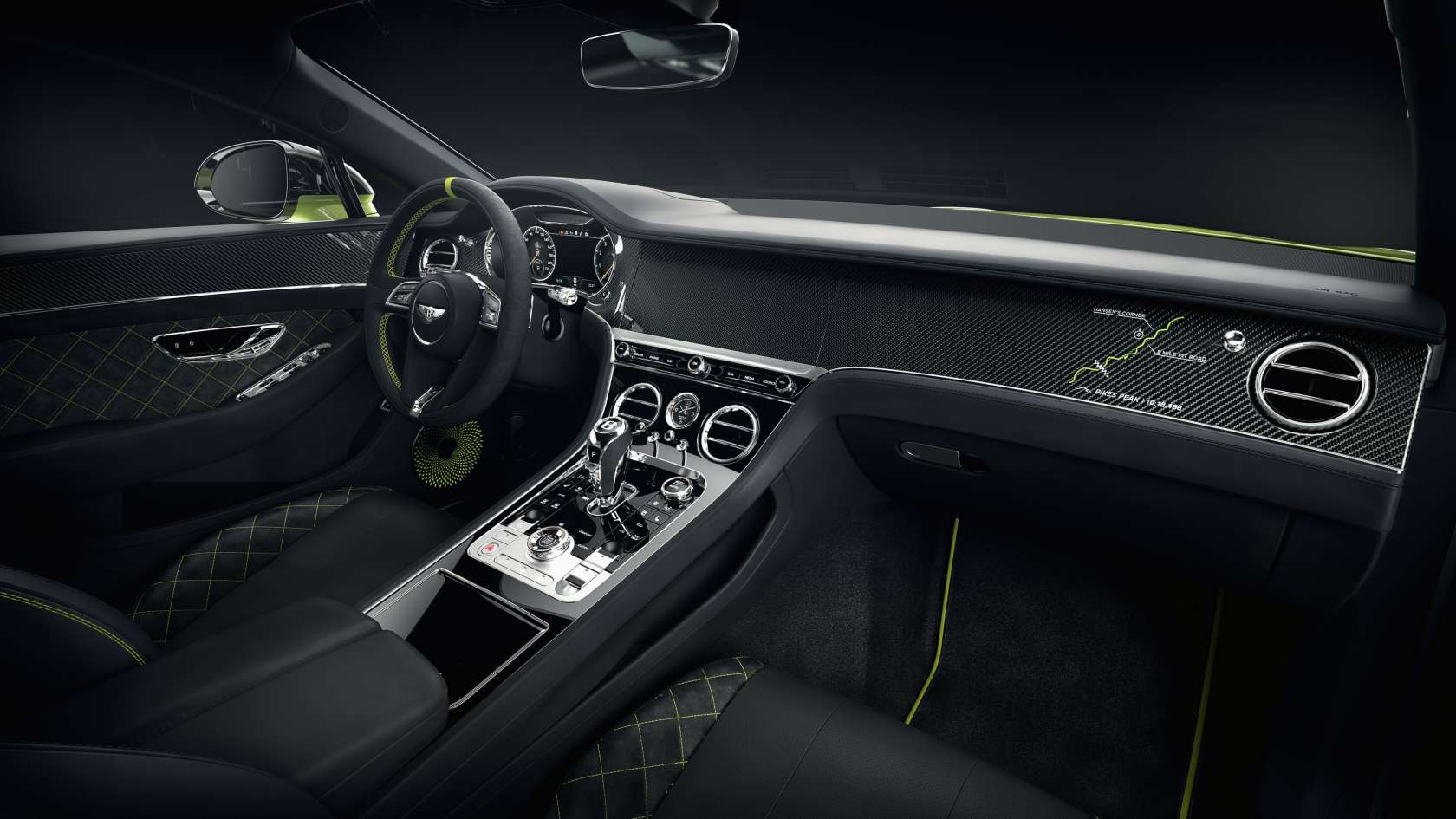 Inside the Bentley Continental GT Pikes Peak edition is a cabin treated in high-grade Alcantara with contrasting Radium stitching and matching Beluga secondary hide. You'll also find a mixture of carbon-fiber and Piano Black accents to enhance the sporting theme.
Meanwhile, the steering wheel benefits from honeycomb stitching and a center stripe using Radium stitching as well. Green stitching is also found on the seats while unique Pikes Peak embroidery adorns the set headrests.
The car also receives Pikes Peak treadplates, black anodized B&O speaker covers with the same Radium finish, and a Pikes Peak Graphic on the passenger-side fascia displaying the record-breaking 10:18.488 run.
Nothing less than a W12 engine will do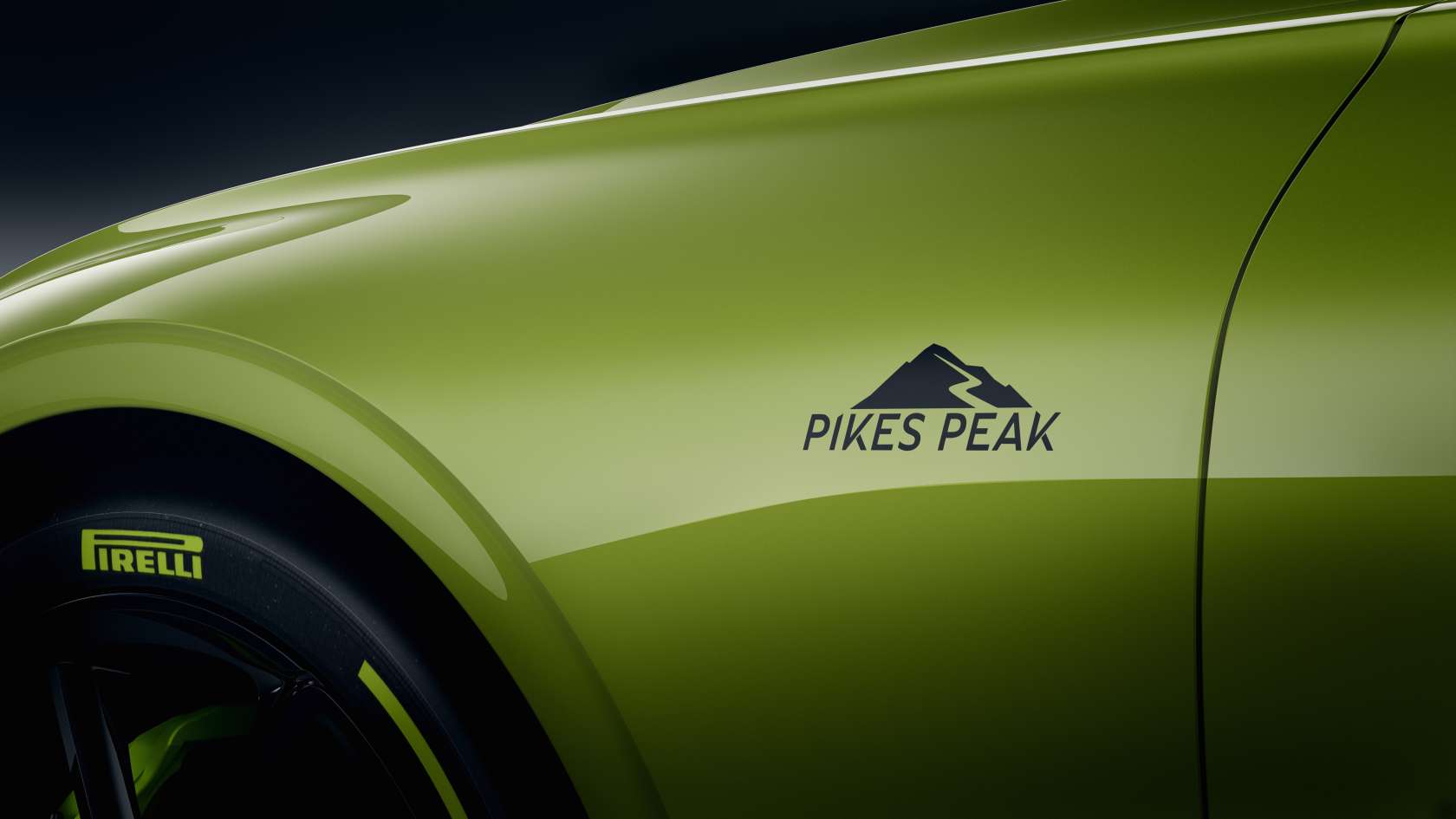 While the new Bentley Continental GT is also available with a smaller V8 mill, the Pikes Peak edition has a W12 engine similar to the hill climb racing car. Producing 626-horsepower and 664 pound-feet of torque, you'll marvel at how a sporting grand tourer is capable of reaching 60 mph in 3.6-seconds as effortlessly as a proper sports car.
Bentley is only making 15 examples of the Pikes Peak Continental GT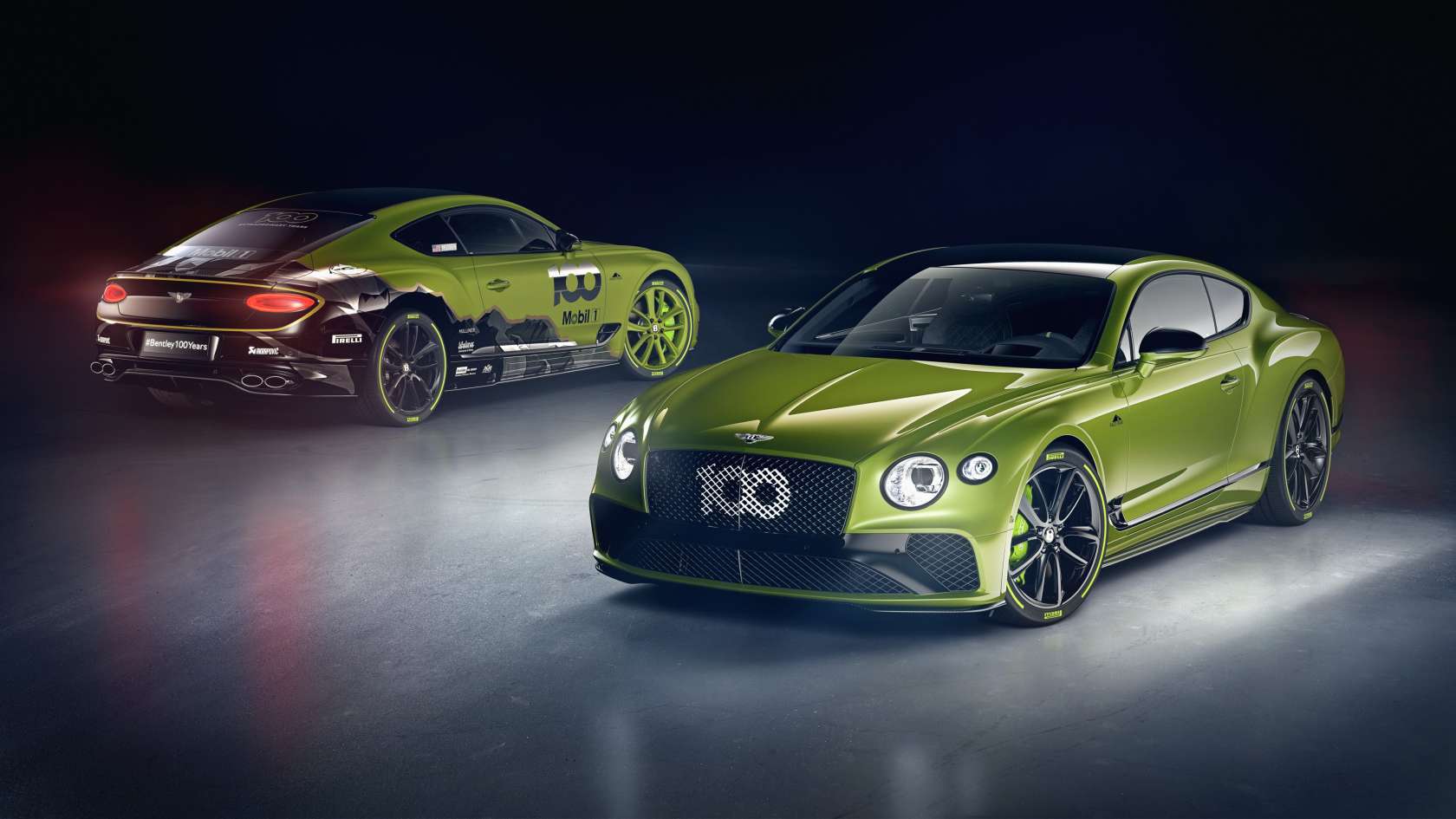 Remember when we said this car is a limited-edition model? Bentley is only making 15 examples of the Pikes Peak Continental GT. If you want to belong in this rare echelon of the hyper-exclusive aristocracy, Bentley is now accepting orders, although you better move quick.
Bentley Continental GT Pikes Peak Edition Image Gallery