Anyone can cook. That's the lesson we learned from chef Auguste Gusteau from Disney Pixar's film 'Ratatouille'. We believe in those words and so even if we have no formal training in cooking, we try to follow recipes from cookbooks and the Internet.
More often than not, we also watch cooking shows on YouTube. The easiest to follow are those 2-3 minute videos from Tasty. You know, those shorts videos that go viral on Facebook on Instagram are actually effective.
Invest in the Right Kitchen Tools
When it comes to cooking, the key is to follow the recipes carefully. Get all the ingredients needed or find alternatives. It will help if you have a nice kitchen with the best appliances and tools but not everyone can have that luxury. Start by getting a nice set of knives.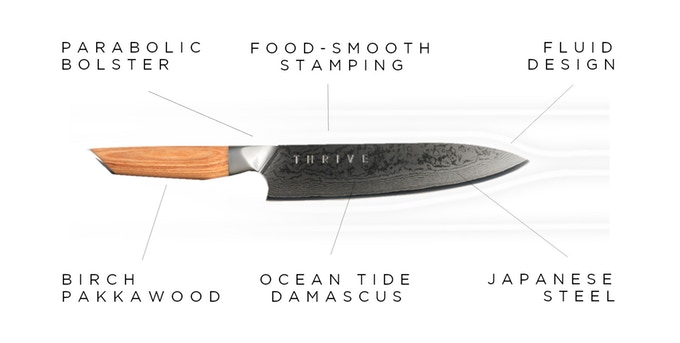 A proper knife isn't really hard to find. Having one is just the beginning. Soon, you'll be purchasing more proper pans that heat well and fast or maybe get a stove or oven that offers more functions.
Back to knives, they say the best ones are those you can get from Japan. We know those ceramic knives really work. Here is a new knife collection you may consider getting: THRIVE 5 Knives.
Knives Thrive with Japanese VG10 Steel
The minimalist design of the THRIVE 5 Knife Collection perfectly illustrates the steel aesthetics of the Japanese. The knives are minimalist but the team behind the project (Thrive Knives) has made sure all five knives can do every cutting task in your kitchen.
The THRIVE 5 Knives may be used with your ChopBox Cutting Board. What makes the knives a better choice is the use of Japanese VG10 steel. According to the designers, this kind of steel can endure and remain sharp a long time (50-year warranty included). The steel with Gold Standard is composed of one percent carbon for sharpness and 15% chromium for stain resistance. As described, the knives come with 67 layers of damascus cladding. When it comes to the blade, each one can reach Rockwell Hardness (HRC) of 59-60 as made possible by the cryogenic treatment with subzero liquid nitrogen.
The steel blade is then complemented by a wooden handle. You will see the industrial and natural influence on every knife. The wood is waterproof so you don't have to worry about mold.

The THRIVE 5 Knife Collection is listed on Kickstarter. The crowdfunding campaign has a goal of $10,000. With only eight days to go before the deadline, the Thrive Knives team has already raised around $38,000.
Price No.3 pairing knife is $35. Get three knives for $135. The whole set will set you back for $295. Support the project on Kickstarter.